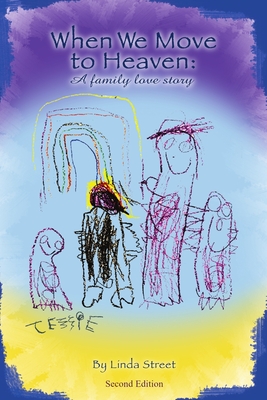 When We Move to Heaven (Paperback)
Paper Airplane Publishing, LLC, 9781947677005, 282pp.
Publication Date: December 19, 2018
* Individual store prices may vary.
Description
A true story of faith, love, family, tragedy, grace and God. Not knowing that very soon she would be moving to heaven, four-year old Jessica Street drew a prophetic picture. This drawing would serve as a message of comfort and of hope for Linda, Jessica's mother. It would also become the cover of this book, a message of hope for all God's people: "When We Move To Heaven." From the ashes of painful loss Linda finds healing, strength, hope, and joy for all eternity. And a peace that passes all understanding. Read how God raised Linda from the darkest depths to soar on eagles' wings. Her journey will leave you in awe of God's power and faithfulness. Come be inspired and comforted in God's great plan for eternal life.
About the Author
Linda Street-Ely's first book, "When We Move to Heaven: A family love story" is her testimony of God's love for each of us, and how we can find Him even in the midst of tragedy.

Her second book, "Cowlick", is a children's story inspired by the child of a friend. Cowlick was bullied but ends up being the hero. His story encourages children and shows that we can rise above hurtful circumstances.

Linda is the co-author of "Ely Air Lines," a popular weekly column on aviation written for the non-flying general public since 2007. Her writing partner is her husband, Mike.

The Elys also own Paper Airplane Publishing, LLC.

Linda had a 25-year career as a paralegal before leaving to work in aviation software. She has an Airline Transport Pilot certificate, along with a tailwheel endorsement and commercial seaplane certificate.

She has been air racing all over the U.S. since 2007, including four times in the historic Air Race Classic. Linda and her husband, Mike, are "Team Ely," five-time National Champions of the Sport Air Racing League, racing their Grumman Cheetah, named "The Elyminator," dubbed "The Fastest Cheetah in the Known Universe." She also loves aerobatics and has competed once, placing third.

She loves to travel the world, meet people, and learn about other cultures.
Praise For When We Move to Heaven…
"I was extremely moved by this story of monumental tragedy and grief and all the ways God touched Linda as she slowly became able to function again. It's a picture of deep pain over which the love of God was able to be victorious both through His word and through His people." - Margery W.

"Tragic and beautiful, well written." - Anonymous
or
Not Currently Available for Direct Purchase