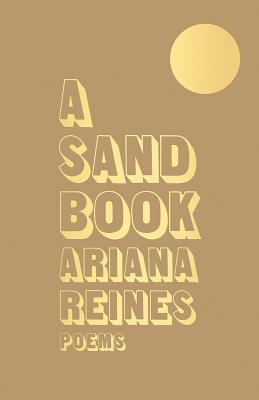 A Sand Book
Hardcover

* Individual store prices may vary.
Other Editions of This Title:
Digital Audiobook (11/22/2021)
Paperback (2/11/2020)
MP3 CD (11/23/2021)
Compact Disc (11/23/2021)
Description
Longlisted for the National Book Award
"Mind-blowing." —Kim Gordon
DEADPAN, EPIC, AND SEARINGLY CHARISMATIC, A Sand Book chronicles climate change and climate grief, gun violence and bystanderism, state violence and complicity, mourning and ecstasy, sex and love, and the transcendent shock of prophecy, tracking new dimensions of consciousness for our strange and desperate times.
Praise For A Sand Book…
Her writing is queer and raunchy, raw and occult, seemingly never pulling away from her deepest vulnerabilities. Yet Reines simultaneously maintains a feeling of epic poetry, of ancient intention. She moves between worlds in search of the divine and the self.
— The New York Times

Reines' wildly rewarding poems are connected through clarity of voice, generous irreverence, and seemingly limitless purview... it truly contains multitudes.
— Booklist (Starred Review)

These
are the kinds of poems that reorient you in the world, make you understand how
little you know, but how much is inside you. Lines like 'the suffering of woman
is/ the story of the universe' will linger in the front of your skull,
imprinting themselves on your consciousness in a way that feels risky and real,
like you've unlocked the key to some hidden truth, some undiscovered light.
— NYLON

Maybe you don't automatically reach for poetry when you're plugging the Coors into your beach cooler, but Ariana Reines' A Sand Book is an epic, perfect beach read. At nearly 400 pages, this gorgeous and terrifying travelogue and book of mourning has enough poems to get you from blue June to haunted October. 

— Karen Russell - GQ

Mind-blowing.
— Kim Gordon

Ariana Reines is my favorite living poet, and A Sand Book is one of her greatest acts of alchemy: a poetic supernova transcending magazine feminism, faultless views, the branding of basically everything. To be fully human requires an act of sorcery nowadays, and Reines is that sorceress.

— Melissa Broder

Ariana Reines is a go-for-broke artist who honors her traditions by being like no one else. Some of us have made a fetish of our stupidity, pretending to forget history, and some of us have made a fetish of despair, congratulating ourselves on melancholia, but Ariana is too brilliant and too alive for either of those sad luxuries. Her poems and various performances and even her posts are fetishes in a much deeper sense: they are sites of (and screens for) irrational and transpersonal powers. I am convinced of the authenticity of the summonses she receives and the summonses she issues and when I read her I am reminded that all of this is a calling before it's an identity or career. Her voice—which is always more than hers alone—is a dialectic between the very ancient and the bleeding edge. I just looked up "bleeding edge" on Wikipedia and here is what it says: "A technology may be considered bleeding edge where it contains a degree of risk." There might be "a lack of consensus." Or "a lack of testing." There might be "industry resistance to change." With Ariana's art the risks are real and we should run them.
— Ben Lerner

Read her for the power of her vision, and for her willingness to look at tragedy, whether personal or planetary, head-on. As the planet grows hotter, as civilization becomes increasingly brutal, banal, and irreal, a voice as powerful as Reines's is too valuable to neglect. A Sand Book is a necessary guide to a future rapidly becoming the present, a map of the desert we all have to navigate.

— Adroit Journal

A Sand Book's achievement, in its lyricism and its philosophy, cannot be understated. With this book of books, Reines transmits and distils the miasma of our reality—in all of its impossible completeness—in order to leave us with something that feels like truth.

— SSENSE

Reines's books are works of intellectual commitment and structural sophistication; at the same time, they allow the raw stuff of being, in all its messiness, to enter the page. . . . It is Western poetry returned to its 'epic' classical origins – meaty and full of drama, with more Big Dick Energy than any 'Great American Novel'.
— The White Review

Reines opens us to new possible uses of language.
— the Hong Kong Review of Books
Tin House Books, 9781947793323, 323pp.
Publication Date: June 18, 2019
About the Author
Ariana Reines is author of Mercury (2011) The Cow (2006) and Coeur de Lion (2007). Her play Telephone was produced at the Cherry Lane Theater and won several Obie awards. Reines was 2009 Roberta C. Holloway Lecturer in Poetry at the University of California Berkeley; she has taught master classes at Pomona College, the University of California Davis, and the University of Pittsburgh. She lives in New York, NY.