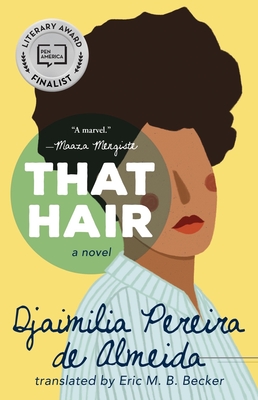 That Hair
Paperback

* Individual store prices may vary.
Description
Finalist for the 2021 PEN Translation Prize
A Best Translation of the Year at World Literature Today

That Hair is a family album of sorts that touches upon the universal subjects of racism, feminism, colonialism, immigration, identity and memory.
"The story of my curly hair," says Mila, the narrator of Djaimilia Pereira de Almeida's autobiographically inspired tragicomedy, "intersects with the story of at least two countries and, by extension, the underlying story of the relations among several continents: a geopolitics." Mila is the Luanda-born daughter of a black Angolan mother and a white Portuguese father. She arrives in Lisbon at the tender age of three, and feels like an outsider from the jump. Through the lens of young Mila's indomitably curly hair, her story interweaves memories of childhood and adolescence, family lore spanning four generations, and present-day reflections on the internal and external tensions of a European and African identity. In layered and luscious prose,
That Hair
enriches and deepens a global conversation, challenging in necessary ways our understanding of racism, feminism, and the double inheritance of colonialism, not yet fifty years removed from Angola's independence. It's the story of coming of age as a black woman in a nation at the edge of Europe that is also rapidly changing, of being considered an outsider in one's own country, and the impossibility of "returning" to a homeland one doesn't in fact know.
Praise For That Hair…
Thoughtfully observed and calmly experimental. . . . A compelling portrait of [Mila's] quest to define her identity on her own.
— NPR

This is a story of colonialism, feminism, racism, love and expression. But most of all, it is a story of identity. . . . That Hair may not offer the most linear storytelling—and in fact, every digression is dense with meaning and tangents—but what emerges is a surprisingly beautiful feeling of connection and rootedness.

— Salon

With themes of colonial inheritance, memory, family, identity, and changing society, That Hair is a short but punchy read filled with gorgeous prose and expertly rendered metaphor, a stirring and lyrical read.

— Electric Literature

The reader is pulled along throughout by a sly, evasive humor—where unreliable memory ends, Almeida seems to say, storytelling begins. Heady and smart.
— Kirkus Reviews

This compact book is a marvel. Djaimilia has written a story that is wry and gentle, profound and deeply moving. That Hair asks, and offers in generous sweeps, what it means to exist in the world as we are. 

— Maaza Mengiste, author of The Shadow King

In That Hair, Djaimilia Pereira de Almeida's wrily ironic and slyly beautiful new novel, translated with grace and nuance by Eric M. B. Becker, the author offers us a 'philosophy of hair,' a Black woman immigrant's hair, based on her 'private drama.' In so doing, she creates a compelling post-colonial feminist and critically raced poetics of the self, and of being and becoming in contemporary Portugal and the West.

— John Keene, author of Counternarratives
Tin House Books, 9781947793415, 200pp.
Publication Date: March 17, 2020
About the Author
Djaimilia
Pereira de Almeida was born in
Luanda, Angola, and grew up in Lisbon. She has a PhD in literary theory from
the University of Lisbon. Her stories and essays have appeared in Granta.com, Words Without Borders, Granta Portugal, Observador, Somos Libros, Ler, serrote,
and 451.

Eric
M. B. Becker is the editor of Words Without Borders and a translator from the Portuguese. He has
translated Mia Couto, Paulo Coelho, and Martha Batalha, among others.