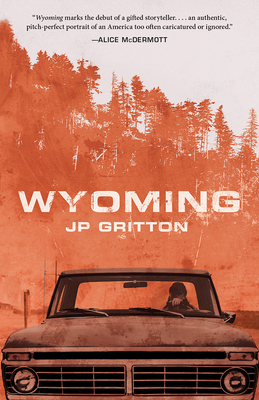 Wyoming
Paperback

* Individual store prices may vary.
Description
A Kirkus Best Fiction of 2019 Pick!
A cross between Daniel Woodrell and Annie Proulx, Wyoming is about the stubborn grip of inertia and whether or not it is possible to live without accepting oneself.
It's 1988 and Shelley Cooper is in trouble. He's broke, he's been fired from his construction job, and his ex-wife has left him for their next door neighbor and a new life in Kansas City. The only opportunity on his horizon is fifty pounds of his brother's high-grade marijuana, which needs to be driven from Colorado to Houston and exchanged for a lockbox full of cash. The delivery goes off without a hitch, but getting home with the money proves to be a different challenge altogether. Fueled by a grab bag of resentments and self punishment, Shelley becomes a case study in the question of whether it's possible to live without accepting yourself, and the dope money is the key to a lock he might never find. JP Gritton's portrait of a hapless aspirant at odds with himself and everyone around him is both tender and ruthless, and
Wyoming
considers the possibility of redemption in a world that grants forgiveness grudgingly, if at all.
Praise For Wyoming…
Gritton erects a penetrating family history of love, loss, loyalty, and betrayal. It takes a great writer to make a character as reprehensible as Shelley not only sympathetic, but almost likable. ... In this brilliant debut novel, there are many bread crumbs leading us back to possible answers. An affecting, richly drawn, darkly humorous novel.
— Kirkus, starred review

Pitch perfect cadences sing from the mouths of Gritton's characters, and the author performs skilled loop-de-loops in and out of Shelley's memories. This auspicious debut marks Gritton as a storyteller to watch.
— Publishers Weekly, starred review

In this throwback to 1980s dirty realism and a novel reminiscent of Frank Bill's fiction, Gritton evokes a beautiful rural landscape and people struggling with the cards they've been dealt, creating a rollicking portrait of a compelling and complicated man who is the product of his choices as much as his circumstances.
— Booklist

Gritty, brilliant ... a truly fine and compelling story. Given its dramatic plot, colorful characters and subtle profundities, Wyoming has movie written all over it.

— Star Tribune

It's a powerful story that bridges the specific and the universal, telling us all about ourselves through Shelley Cooper's stumble and fall.
— Barrelhouse

From its first assured sentence to its last, Wyoming marks the debut of a gifted storyteller. This is a compassionate novel, for all its violence and despair, an authentic, pitch-perfect portrait of an America too often caricatured or ignored. There are hard truths here, grit and cruelty, but JP Gritton's fine prose is nuanced enough, generous enough, to keep his troubled narrator's humanity, his beating heart, apparent at every turn.

— Alice McDermott, author of THE NINTH HOUR

J.P. Gritton's Wyoming is a taut, headlong novel about friendship, brotherhood, and bad decisions—what a man might do for a chance at a different life, and who he might be willing to hurt. Shelley Cooper is a blue-collar antihero, flawed but compelling, in the tradition of Daniel Woodrell or Donald Ray Pollock. When trouble beckons, he just can't help himself, and you can't help but root for him, even as he leaves a trail of wreckage in his wake.

— Justin St. Germain, author of SON OF A GUN

Money, family, sex, crime, and mayhem—Wyoming combines the thrill of genre work with the genuine human investigation one hopes to see in a literary novel, and the result is wickedly pleasurable and satisfyingly disturbing. J.P. Gritton's terse prose about dark-minded men reminds me of the novels of Pete Dexter. This is a marvelous debut and a writer to watch.

— Robert Boswell, author of TUMBLEDOWN
Tin House Books, 9781947793446, 246pp.
Publication Date: November 19, 2019
About the Author
JP Gritton received his MFA from John Hopkins University and is currently a Cynthia Woods Mitchell fellow at the University of Houston. His awards include a DisQuiet fellowship and the Donald Barthelme prize in fiction. His stories have appeared or are forthcoming in Black Warrior Review, Greensboro Review, New Ohio Review, Southwest Review, Tin House, and elsewhere.
or
Not Currently Available for Direct Purchase