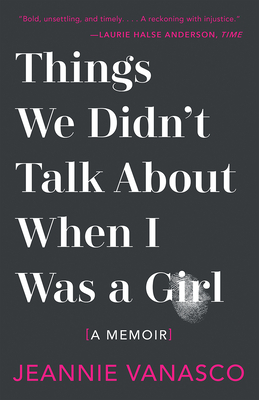 Things We Didn't Talk About When I Was a Girl
A Memoir
Hardcover

* Individual store prices may vary.
Other Editions of This Title:
Digital Audiobook (9/30/2019)
Paperback (8/11/2020)
Compact Disc (10/1/2019)
MP3 CD (10/1/2019)
Description
A New York Times Editors' Choice and Best Book of the Year at TIME, Esquire, Amazon, Kirkus, and Electric Literature
Jeannie Vanasco has had the same nightmare since she was a teenager. It is always about him: one of her closest high school friends, a boy named Mark. A boy who raped her. When her nightmares worsen, Jeannie decides—after fourteen years of silence—to reach out to Mark. He agrees to talk on the record and meet in person.
Jeannie details her friendship with Mark before and after the assault, asking the brave and urgent question: Is it possible for a good person to commit a terrible act? Jeannie interviews Mark, exploring how rape has impacted his life as well as her own.
Unflinching and courageous, Things We Didn't Talk About When I Was a Girl is part memoir, part true crime record, and part testament to the strength of female friendships—a recounting and reckoning that will inspire us to ask harder questions, push towards deeper understanding, and continue a necessary and long overdue conversation.
Praise For Things We Didn't Talk About When I Was a Girl: A Memoir…
Bold, unsettling, and timely. . . . A reckoning with injustice.
— Laurie Halse Anderson - TIME

Gorgeous, harrowing, heartbreaking.
— Carmen Maria Machado - Bustle

About violence and forgiveness, about friendship and the unwanted title of victim, about digging deeper and deeper to seek answers.
— The New York Times Book Review

A cuttingly funny meta-meditation on her own pain in the context of #MeToo.
— O, The Oprah Magazine

A remarkably nuanced account of the complicated and confusing emotions that surface when your rapist is someone you knew and trusted.
— The Cut

About how important it is to speak about these oft-silenced experiences that cause so many to feel ashamed, scared, and alone.
— NPR

A stunning work of meta nonfiction. . . . Vanasco's narrative pushes far past the flattened media narrative of Me Too and asks uncomfortable questions about how to talk about rape culture, toxic masculinity and gender, justice, and resilience.
— Shondaland

Perhaps the most important book of the season.
— Esquire

Utterly brilliant.
— Book Riot

Thought-provoking, unmooring, and haunting.
— NYLON

Striking. . . . Creates a language for something we don't talk about.
— The Paris Review

Heartfelt, painful, and essential.
— Shelf Awareness

A gripping read and true fodder for the necessary reckoning with toxic masculinity.
— BuzzFeed

Vanasco immediately makes you wonder how we can take so much about sexual assault for granted.
— The Times Literary Supplement

Intrepid. . . . A work that has the potential to change the way we think and talk about rape and the people who commit it.
— Bitch

Sets the canon of #MeToo-era creative nonfiction on fire. . . . Inimitable.
— Booklist, Starred Review

An extraordinarily brave work of self- and cultural reflection.
— Kirkus, Starred Review

Exactly the book we need right now. . . . I wish everyone in this country would read it.
— Melissa Febos, author of Abandon Me

Stunning.
— Angela Pelster, author of Limber

A literary feminist miracle.
— Sophia Shalmiyev, author of Mother Winter

Brilliant.
— Megan Stielstra, author of The Wrong Way to Save Your Life

Vanasco is a formidable talent.
— Daniel Gumbiner, author of The Boatbuilder

An essential, unforgettable work.
— Erik Anderson, author of Flutter Point

There is so much power in these pages.
— Elissa Washuta, author of My Body is a Book of Rules

Interrogates the terms of betrayal and the limits of redemption.
— Tim Taranto, author of Ars Botanica

A rigorous and nuanced investigation.
— Lisa Locascio, author of Open Me

Wickedly clever and powerful.
— Krystal A. Sital, author of Secrets We Kept: Three Women of Trinidad

Cuts through the silence of deep betrayal.
— Amy Jo Burns, author of Shiner

Astonishingly fierce.
— Emily Geminder, author of Dead Girls and Other Stories

Explores the common experience of rape with uncommon nuance and intense tenderness.
— YZ Chin, author of Though I Get Home
Tin House Books, 9781947793453, 360pp.
Publication Date: October 1, 2019
About the Author
Jeannie Vanasco is the author of The Glass Eye: A Memoir (Tin House Books, 2017). Her work has appeared in The Believer, the New York Times Modern Love, Tin House, and elsewhere. She lives in Baltimore and is an assistant professor at Towson University. Things We Didn't Talk About When I Was a Girl is her second book.
1. What do you think of the title Things We Didn't Talk About When I Was a Girl? Why do you think it is that we don't discuss many of the issues raised in the book? Do you think things have changed at all since you were a kid?
2.  Jeannie Vanasco's memoir dovetails with many concerns raised by the #MeToo movement. Did you find you were reading her memoir in the context of this movement?
3. How do you feel about Vanasco including Mark's perspective in the narrative? Did your feelings about his inclusion change as you read?
4. Vanasco worries that readers might think her conversations with Mark are a "performance of gender" or that she spends too much time humanizing him. Did you have these feelings?
5. Outside of the interviews with Mark, Vanasco's partner, Chris, offers a male viewpoint. How might the book have been different if not for Chris' perspective?
6. Vanasco's female friends play an important role in the narrative. What do you think this memoir might generate in terms of conversations amongst women? Did you talk to your female friends about this book?
7. Many of the college students Vanasco teaches have experienced sexual assault. Do you think this book would benefit readers in their teens and early twenties?
8. Vanasco's first memoir, The Glass Eye, deals with issues of mental illness. In Things We Didn't Talk About When I Was a Girl, Vanasco states that this fact might make readers worry that she is an unreliable narrator. Did you have this concern while reading?
9. Vanasco struggles to define what happened to her as rape, but ultimately decides to use the word rape. Do you think that this decision represents an important moment in the memoir? Do you think there is a strong difference between the terms "sexual assault" and "rape"?
10. Throughout the book, transcripts of Vanasco's conversations with Mark are interspersed between sections of reflection, memory, research, and more. How did this construction influence your reading of the book? What did it mean to you to be able to read the transcripts directly?