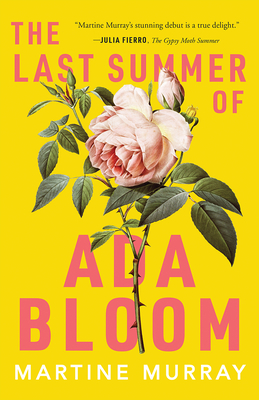 The Last Summer of Ada Bloom
Paperback

* Individual store prices may vary.
Other Editions of This Title:
Digital Audiobook (7/6/2020)
Compact Disc (7/7/2020)
MP3 CD (7/7/2020)
Compact Disc (7/7/2020)
Description
A big-hearted story of a family filled with secrets, and the ways they grow up—and apart—over the course of a single, life-altering summer.
In a small country town during one long, hot summer, the Bloom family is beginning to unravel. Martha is straining against the confines of her life, lost in regret for what might have been, when an old flame shows up. In turn, her husband Mike becomes frustrated with his increasingly distant wife. Marital secrets, new and long-hidden, start to surface—with devastating effect. And while teenagers Tilly and Ben are about to step out into the world, nine-year-old Ada is holding onto a childhood that might soon be lost to her.
When Ada discovers an abandoned well beneath a rusting windmill, she is drawn to its darkness and danger. And when she witnesses a shocking and confusing event, the well's foreboding looms large in her mind—a driving force, pushing the family to the brink of tragedy. For each family member, it's a summer of searching—in books and trees, at parties, in relationships new and old—for the answer to one of life's most difficult questions: how to grow up?
The Last Summer of Ada Bloom is an honest and tender accounting of what it means to come of age as a teen, or as an adult. With a keen eye for summer's languor and danger, and a sharp ear for the wonder, doubt, and longing in each of her characters' voices, Martine Murray has written a beguiling story about the fragility of family relationships, about the secrets we keep, the power they hold to shape our lives, and about the power of love to somehow hold it all together.
Praise For The Last Summer of Ada Bloom…
Masterful ... Murray's unflinching, intuitive tale will satisfy readers who like their family dramas with a strong dose of darkness.
— Publishers Weekly, Starred Review

Murray perfectly captures the claustrophobia of family life, driven by an emotional barometer that swings from tender feelings of closeness and belonging to long-simmering resentment and regret.
— Booklist

I felt this wonderful story as much as read it.
— Susan Crandall, author of The Myth of Perpetual Summer

In this story of a young Australian family whose concealed deceptions are driving them apart, Murray writes with sensual tenderness about the buried yearnings that threaten and sustain our most cherished relationships, as well as our perverse human tendency to constantly test their strength.
— Courtney Maum, author of Costalegre

The Bloom family will absolutely have your heart. Ada Bloom is a sweet, precocious girl traversing that strange territory on the edge of childhood. Her sister Tilly and brother Ben are testing the waters of adulthood, each in their own way. Their parents, Martha and Mark, are both tempted by people in their lives, old and new, in disastrous ways. Readers will be spellbound by this honest and tender accounting of each Bloom family member, told in a chorus of voices, revealing a intimate and flawed family portrait that leaves you feeling connected to everyone around you. Martine Murray's stunning debut is a true delight.
— Julia Fierro, author of The Gypsy Moth Summer
Tin House Books, 9781947793613, 280pp.
Publication Date: April 7, 2020
About the Author
Martine Murray is an award-winning novelist and illustrator. She was born in Melbourne and now lives in Castlemaine, Victoria.
1. Why do you think Martine Murray chose to open book with the scene of Ada and the windmill? What does the windmill come to symbolize for Ada, and within the context of the book as a whole?
2. Sisterhood plays a big role in this novel. How does Ada's relationship with Tilly change over the course of the book, and in what ways do they learn from one another?
3. In what ways do the expectations for, and of, Tilly differ from the expectations the Bloom family has for Ben? How does this difference affect the relationship between these two siblings?
4. What does it mean in the context of this book to "grow up"? In what ways do you see the various characters growing?
5. How is weather, and the natural world used in the context of the novel? How does it connect with what the characters are experiencing and feeling?
6. What role does voice play in this book, and how does it feel particular for each character? Are there particular voices that stand out to you?
7. Which characters in this novel would you say are trustworthy? How do the secrets they keep drive the plot forward?
8. In chapter twelve, Tilly notes that, "Martha's whole life was a performance, with men as the audience." Would you agree with this characterization of her mother? Are there moments in which Martha or other characters seem to be "performing" certain roles that might

differ from who they actually are?
9. How does the small town setting influence the goals and aspirations of the main characters? In what ways does this setting inform the plot of the book?
10. In what ways do the books Ada reads shape how she sees and approaches the world? Are there particular books you loved as a child that similarly impacted you?