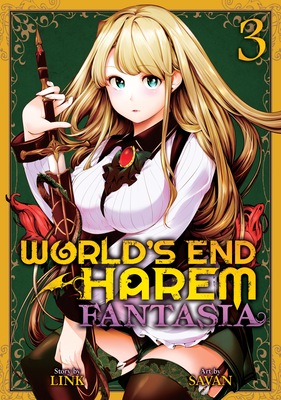 World's End Harem
Fantasia, Vol. 3
Paperback

* Individual store prices may vary.
Other Editions of This Title:
Paperback (5/25/2021)
Paperback (9/24/2019)
Paperback (2/18/2020)
Paperback (10/5/2021)
Description
An all-new, Mature-rated fantasy tale of doom and desire From LINK, the writer of Ghost Ship's science fiction bestseller World's End Harem, comes an erotic adventure in a world of swords and sorcery. Arc, heir to the throne of Nargala, and his harem of beautiful women may be the only thing standing against the end of everything. The world has been corroded by darkness and debauchery, but the mysterious and sensual Dark Elf Lati offers Arc the power he has long yearned for to change his fate. VOLUME SUMMARY: Having left Arc's employ, Celine finds herself invited on a dungeon quest with the local Adventurer's Guild. Is the mysterious woman who invited her more than meets the eye? Meanwhile, Arc regrets what happened when his Macht went berserk. He seeks out Lati to learn to control his budding powers, but then discovers that his father's illness is not what it seems. He must travel to a foreign land to find out the truth
Ghost Ship, 9781947804739, 196pp.
Publication Date: November 10, 2020