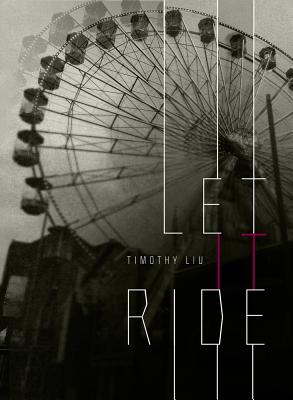 Let It Ride
Paperback

* Individual store prices may vary.
Description
At the height of his powers, Timothy Liu's first book since his New & Selected Poems explores how the necessities of life and art dovetail to open up a vital path forward at midlife. His twelfth book of poems, Let It Ride integrates life's struggles at midlife by way of disintegration. What's left behind are lyrical traces, poetry a gambol, love a gamble, you're either all in or all out. You let it ride, that is, if you've got the guts. And ride he does. These poems argue for a life that is more than amusement—rather, a mythic venture waiting to be embodied, embarked upon. And invariably, it almost never turns out well, not in the long run. But Let It Ride show us that, sometimes, if you happen to get lucky, if you have the good fortune to jot a few things down—you just might stand a chance to walk away from the crowded table with shreds of your soul intact.
Saturnalia Books, 9781947817081, 80pp.
Publication Date: October 15, 2019
About the Author
Timothy Liu's latest book is Luminous Debris: New & Selected Legerdemain (1992-2017). His journals and papers are archived in the Berg Collection at the New York Public Library. A reader of occult esoterica, he lives in Manhattan and Woodstock, NY.