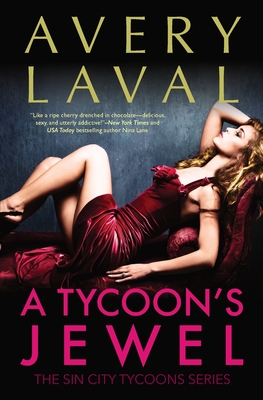 A Tycoon's Jewel
A Las Vegas Billionaire Romance (Sin City Tycoons Series #1)
Paperback

* Individual store prices may vary.
Description
"The perfect, sexy read." --New York Times and USA Today bestselling author Jessica Clare
How much would you gamble on a second chance at love?
Six years ago, celebutante Jenna McCormick lost it all--her parents, her fortune, and her family's jewelry company. She built a new life for herself, but when disaster strikes and she needs more money fast, she's forced to ask the one man she despises most.
Bad boy CEO Grant Blakely stole Jenna's heart--and her father's billion-dollar jewelry empire. That was years before, but Jenna has never forgiven him. He's the last person she would ever ask for help, but now she has no choice. Her brother's life depends on it.
When Jenna asks Grant for a job, he sees only the spoiled brat she was all those years ago. She's persuasive though, and still sexy as hell. Fueled by curiosity and revenge, Grant hires her--as his assistant. He thinks she won't last a day doing his endless lists of menial tasks, but he soon learns that there's more to Jenna than he ever knew--and this time, she's not giving up so easily.
When the battle of wills begins, it fans the spark between them into a wildfire--but can Jenna really trust Grant, or is he just out to humiliate her one last time?
Get ready for a thrilling enemies-to-lovers romance--Vegas style.
"What a sparkling gem of a story I loved it--and can't wait for the rest of this dazzling series " --USA Today bestselling author Caitlin Crews
"An Avery Laval romance is like a ripe cherry drenched in chocolate--delicious, sexy, and utterly addictive " --Nina Lane, New York Times and USA Today bestselling author of the Spiral of Bliss Series
"Avery Laval has a flair for writing multi-faceted characters who are refreshingly smart and irresistible. A Tycoon's Jewel has just the right amount of smoldering chemistry, Vegas glamour, and delightfully fast-paced plot. A story to be devoured." --Tina Ann Forkner, award-winning author Waking Up Joy and The Real Thing
Blue Crow Books, 9781947834071, 224pp.
Publication Date: November 1, 2017
or
Not Currently Available for Direct Purchase