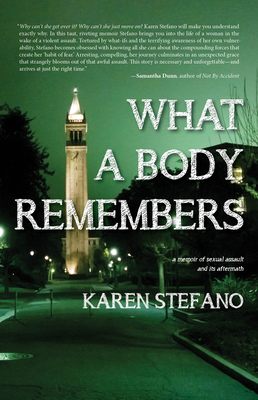 What a Body Remembers
A Memoir of Sexual Assault and Its Aftermath
Paperback

* Individual store prices may vary.
Other Editions of This Title:
Digital Audiobook (6/10/2019)
Description
On a summer night in 1984, nineteen-year-old UC Berkeley sophomore Karen Thomas leaves her uniformed patrol job and walks home alone in darkness. At the threshold of her apartment a man assaults. After a soul-chilling struggle, she manages to escape. Though she is left traumatized by her assault and the subsequent trial of her attacker, she herself goes on to become a criminal defense lawyer, defending those accused of crimes as heinous as the one committed against her. Fast forward to 2014, thirty years after her assault, when her life, once again, appears to be crumbling. As she stumbles her way through the days navigating a dying marriage, devastating financial loss, and an elderly mother slipping into dementia, she becomes fascinated by her own anxiety and PTSD. Why does the body remember what the mind tries so desperately to forget? Her questions prompt a delayed obsession with her assailant: What became of him? What is he doing now? She begins a quest of excavation, determined to track him down. What she discovers is life altering. What A Body Remembers is an honest, from-the-gut account of one woman's journey to regain her power and confidence--a journey that continues to this day.
Rare Bird Books, a Vireo Book, 9781947856950, 312pp.
Publication Date: June 11, 2019
About the Author
Karen Stefano is the author of the forthcoming memoir, What A Body Remembers (Rare Bird Books 2019). She is the author of the short story collection The Secret Games of Words (1GlimpsePress 2015) and the how-to business writing guide, Before Hitting Send (Dearborn 2011). Her work has appeared in Ms. Magazine, California Lawyer, Psychology Today, The South Carolina Review, Tampa Review, Santa Fe Literary Review, Epiphany, and elsewhere. She is also a JD/MBA with more than twenty years of complex litigation experience. To learn more about Karen and her writing, please visit http: //stefanokaren.com.