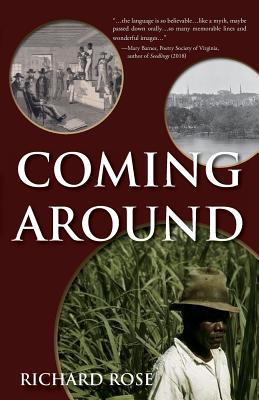 Coming Around
Paperback

* Individual store prices may vary.
Description
While researching family history for his semibiographical opera Monte and Pinky, Richmond-based poet and songwriter Richard Rose came face to face with the fact of his ancestors' involvement in the local slave trade. As a social and environmental activist, Rose became determined to explore and come to terms with the many consequences of the injustices in which his family took part.

A story in verse, Coming Around is the companion piece to Monte and Pinky, following the life and descendants of a slave named Simon Abouette and of the Ouillechaud family, who purchase him to work on their sugar plantation in the early 1800s. Interspersed with heartbreaking lyric pieces based on historical anecdotes from across the South, Coming Around is the culmination of one man's effort to heal the hurts of the past through humility, understanding, and acceptance.
Praise For Coming Around…
"'Marsa, buy my chillun' is just super . . . the language is so believable, and the last two lines are so sad and so right . . . . Then in 'Data Driven' I immediately loved the second stanza—so inventive, and the end of it: '. . . and you become the thing you have conveyed. / You are a strand that's twisted in the braid.' . . . The whole 'Weeping Rock' piece . . sounds like a myth, maybe passed down orally . . . so many memorable lines and wonderful images . . ."
~ Mary Barnes, Poetry Society of Virginia, author of "Seedlings" (2018)

"I have long been a reader and admirer of the poems of Richard L. Rose. He is a poet of keenly balanced opposites, one who can hold contradictions in his head with the mercy of understanding and sympathy, and which he describes as what Robert Lowell once beautifully called 'the grace of accuracy.' With a capacious mind and subtle craft, he writes in different forms about a wide range of subjects. But whatever he touches turns to poetry, and his Coming Around is something I will use to sustain me."
~ Jay Parini, author of "New and Collected Poems, 1975–2015"

"Part history lesson, part fiction, and all truth, Richard Rose's Coming Around excavates family skeletons and the darkness of mid-sized Southern alleys and holds them up for us 'who idly water bitterness' to examine. We find that from the river to the auction block and back again is not so great a distance . . . and neither is the journey north. Here the annotations add to, rather than distract from, the poems, as we are allowed privileged glimpses into not only the stories, but the poet's process as he works. Through a variety of forms and sharp wordplay, Rose takes us on a road trip into time, pointing out our 'long and comfortable conflicts' by the wayside with the hope that by the end, we too will 'come around' and 'walk [. . .] into the mountains without guide.'"
~ Joanna Lee, author of "Dissections"

"Grounding his new collection, Coming Around, in the two oracular loci of his own family history—Richmond, Virginia; and Crowley, Louisiana—Richard L. Rose challenges himself and his reader to come to terms with a complex past and present of hard scrabble, racial division, and human resilience. This is iconic American subject matter, but the canvas here is finely detailed: the writer has done his research and imagined himself richly into his particular characters. The poems—in an effort, he explains, 'to decenter from the subject matter'—come in a bravura variety of forms. Their language, elegant and thorny, lyrical and narrative, meditative and muscular, charms the ear and engages the intelligence. Recommended."
~ Derek Kannemeyer, author of "An Alphabestiary"
Belle Isle Books, 9781947860087, 82pp.
Publication Date: August 6, 2018
About the Author
Richard L. Rose (b. 1945) has retired from several careers, including teaching, medical laboratory work, environmental education and research, math and science supervision, and teaching science and science teaching methods in public schools and universities. After growing up "on the road" with a military family, described in the poetic memoir Marking Time, he settled in Northern Virginia with his wife Susan Bruch Rose to raise two sons and follow a vocation of teaching and avocations of writing and musical composition.

Since retiring, he has produced several chamber operas: Annunciations, The Books of Daniel, Amber, and The People's Voice; two children's books: Shura and The Queen and the Crocodile, and several books of poetry. Following his wife's death and beginning a second marriage to Kathleen Warner, he completed La Rinuncia, produced with a Missa brevis in Richmond in 2015, as well as a novel, FRAMESHIFTS (two volumes, 2011), The School Year in 2015, and the opera Monte and Pinky (2018), to which Coming Around is the companion book. All of the operas were performed as benefit concerts for such organizations as Amnesty International, Habitat for Humanity, as well as a number of arts foundations and local charities. Another musical work, The Fisher of the James, focuses on environmental concerns, while an additional set of stories, Hidden Moves and Hidden Faces, was inspired by the city of Richmond itself. These and other works are publicly available on his website: marginal-notesinwordsandmusic.org; and blogsite: http://www.frameshifts.com.

Recurrent themes in Rose's work are the transience of our lives and habitat, and an insistence that we find effective ways to attend to this fact, not by heroic measures but by paying attention to each other and our world and focusing on compassion. By producing benefit concerts, reducing royalties, and recommending nonprofit organizations worthy of their attention, he invites readers to make their own creative responses. His hope is that readers of his work will be inspired to imagine and accomplish something positive for their communities.