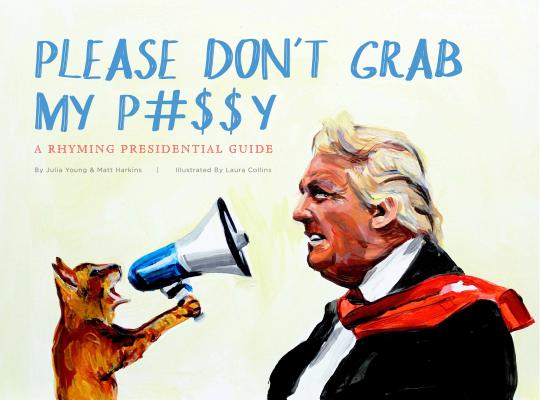 Please Don't Grab My P#$$y (Hardcover)
A Rhyming Presidential Guide
Animal Media Group LLC, 9781947895027, 32pp.
Publication Date: October 30, 2018
* Individual store prices may vary.
Description
Through campy pop culture rhymes and beautiful oil paintings, the narrator of our book guides you though a list of things you CAN grab while offering more poetic ways to refer to a woman's genitalia than the word "pussy" that Trump so vulgarly used. As the narrator goes on, she lets you know more about her relatives (a reclusive aunt with a lazy eye) and her interests (Justin Bieber's Instagram) while never losing sight of her mission to make the President as uncomfortable as possible. We think that the President, not to mention men in Hollywood, Wall Street, the news media and beyond, can benefit from reading our book. No matter who you are, or how dumb you are, you'll be able to understand this book's simple message: Hands off my pussy.
About the Author
Julia Young is a NYC based writer and comedian. She currently appears on MTV's "Wild 'N Out." Writing credits include: "Brain Games" on National Geographic, "Girl Code" and "Ladylike" on MTV, "Hack My Life," "Impractical Jokers" and "Billy On The Street" on truTV. Visit her website at juliabyoung.com Matt Harkins is the co-creator of the THNK1994 Museum (thnk1994.com) which has been covered by Rolling Stone, The New York Times, NPR, Vanity Fair and more. Laura Collins is a Chicago based artist known for turning 'Real Housewives' into Fine Art. A pop culture phenomenon in her own right, Collins' work has garnered coverage from media including ArtNet, PopCrush, New York magazine, and Rolling Stone.