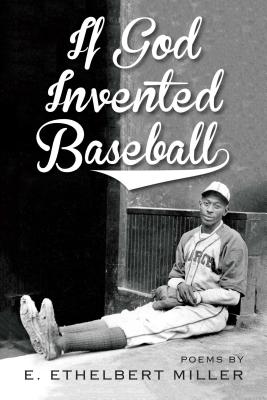 If God Invented Baseball
Poems
Paperback

* Individual store prices may vary.
Description
Here are poems that celebrate and interpret the game by one of America's finest poets. They are for everyone who has experienced the magic released when three holy things come together: bat, ball and glove.

"Ethelbert Miller is one of the most significant and influential poets of our time."

--Gwendolyn Brooks

If God Invented Baseball is a complete game of baseball poems, a full nine innings pitched by a "master twirler," whose complete arsenal includes fastballs, curves and change-ups, and the occasional knuckler, to keep readers swinging for the fences, his full artistry on display.

Ethelbert Miller's work captures the enjoyment of the game from childhood to old age. Baseball fans will place this book next to their scorecards, peanuts and beer. Poetry readers will equally be delighted.

If God Invented Baseball is a book for the ballpark and the home.

"Ethelbert's replay of baseball joys and sorrows is a must read. He brings us THE GAME with skill and grace. It is an inside the park home run"

-- Clifford Alexander
City Point Press, 9781947951006, 72pp.
Publication Date: February 13, 2018
About the Author
E. (Eugene) Ethelbert Miller was born in the Bronx, New York, in 1950. He attended Howard University and received a BA in African American studies in 1972. A self-described "literary activist," Miller is on the board of the Institute for Policy Studies, a progressive multi-issue think tank, and has served as director of the African American Studies Resource Center at Howard University since 1974. His collections of poetry include Andromeda (1974), The Land of Smiles and the Land of No Smiles (1974), Season of Hunger / Cry of Rain (1982), Where Are the Love Poems for Dictators? (1986), Whispers, Secrets and Promises (1998), and How We Sleep on the Nights We Don't Make Love (2004).

Miller is the editor of the anthologies Women Surviving Massacres and Men (1977); In Search of Color Everywhere (1994), which won the PEN Oakland Josephine Miles Award and was a Book of the Month Club selection; and Beyond the Frontier (2002). He is the author of the memoir Fathering Words: The Making of an African American Writer (2000).

The mayor of Baltimore made Miller an honorary citizen of the city in 1994. He received a Columbia Merit Award in 1993 and was honored by First Lady Laura Bush at the White House in 2003. Miller has held positions as scholar-in-residence at George Mason University and as the Jessie Ball DuPont Scholar at Emory & Henry College. He has conducted writing workshops for soldiers and the families of soldiers through Operation Homecoming.