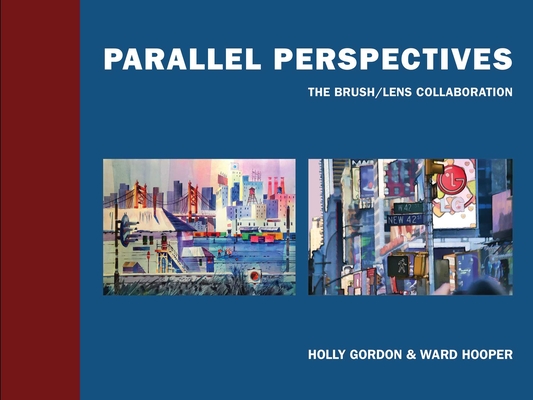 Parallel Perspectives
The Brush/ Lens Collaboration
Hardcover

* Individual store prices may vary.
Description
The eye-arresting images in this original contemporary art book feature two popular mediums, painting and photography. Although the art is inspired by the Long Island landscape, its visual appeal in artists' interpretations of locations is universal. Paired with the dialog of the artists, the narrative becomes an intimate conversation with the reader. Combining life, loss, serendipity and art, it portrays two artists, whose conceptually similar work evolved independently until social media brought them together. Their collaboration continues to produce treasures of stunning, memorable beauty.

The improbable pairing of Holly Gordon, photographer from Bay Shore, Long Island, and Ward Hooper, painter from Northport, Long Island, is a symbiotic match.

Their artistic relationship is an affirmation of the human spirit in an age where most can't seem to detach from objects.

These two contemporary artists discovered a serendipitous connection to the earlier American artistic and personal alliance of Arthur Dove and Helen Torr, whose work was inspired by the same Long Island locations. The past thus joined the present, deepening Gordon and Hooper's bond, both personally and geographically.

In Gordon and Hooper's intimate relationship there is a sense of empathy, connection, and mutual discovery that is invincible.

Ward Hooper and Holly Gordon understand that the meaning of their journey extends beyond themselves. Their camaraderie and brilliant exposition beckons others to do the same and thereby reach their own heights in art and life.

The transformative journey that unfolds centers on art as a positive force that ultimately unites two creative spirits. I found the imagery captivating and the text inspirational. Learning about how these two people from different art disciplines came together to help heal and enrich each others' lives (and create wonderful imagery throughout the process) made me appreciate my life and relationships even more. The book may even encourage you to create something new, or collaborate with someone you already know...or someone who is out there waiting to be a part of your "Light's Journey." -- Andrew Darlow, Photographer, Educator and Author

......A love story of friendship and renewal. Holly and Ward were meant to meet to discover their connection through art and nature. Two wonderful artists exploring life together through the warmth of colors, brush and lens strokes and subjects they created separately at different times and then together revealing their deep passion for life, friendship and art. --Charlee M. Miller, Executive Director, Art League of Long Island, Dix Hills, N.Y.

Parallel Perspectives: The Brush/Lens Project gives us seamlessly created images that work on many levels: They pay attention to tiny details yet pulse with large swaths of vibrant color. They look like paintings — but they could be photographs, and vice versa. These are eye-arresting scenes, a visual harvest of the natural beauty that surrounds us, creating lasting sights that celebrate what talented artists have always quested for: the light. Holly Gordon finds images and builds digital layers that blend an unflinching assessment by a documentary photographer and environmentalist with a painterly sensitivity; Ward Hooper's loose brushstrokes capture the ever-shifting light and shadow through watercolors that are as elusive as the light. Their collaboration continues to produce treasures of stunning, memorable beauty.—Annie Wilkinson Blachley's features and cover stories have been published by The New York Times, Los Angeles Times, and national and regional newspapers and magazines. She is a copy editor and columnist for the Long Island Press and writes several monthly columns for Long Island Woman Magazine
City Point Press, 9781947951242, 208pp.
Publication Date: October 6, 2020
About the Author
Holly Gordon paints with her camera. The world is her studio and the digital darkroom sometimes takes her vision far beyond photography as we know it. The origins of her art date back to film photography in the 1960s and the aura and aromas of the traditional wet darkroom. While most people viewing Holly's current work think she is a painter, what they are seeing is her photography in transition. Technology is changing photography as we know it and Holly's art is part of that change. "Photo-Liminalism" is the term she has applied to the innovative work that has emerged after nearly twenty years of creative exploration. Holly Gordon's art has appeared in The New York Times, Shutterbug, National Wildlife Magazine, and New York Newsday. Her work has been exhibited at the American Museum of Natural History, Denise Bibro Fine Art gallery, the New York Hall of Science, the Heckscher Art Museum, Long Island Museum, Islip Art Museum, and the Audubon Center in Greenwich, Connecticut. Gordon's art is included in a number of public and private collections, including NYU Langone, Melville Corporate Plaza, and Molloy College.

Ward Hooper's paintings have been widely exhibited and his work has been featured in Watercolor Artist Magazine. His numerous awards and honors include the Peacock Award for his watercolor paintings. After graduating with a degree in Graphic Design from The New York City College of Technology, CUNY, and attending the Art Students League, Ward's career included over thirty years as art director and award-winning design director for the J.C. Penney Company. He was also vice president of the design firm Coleman, Lipuma, Siegel and Morrill. Among the clients he served during his career were Avon, Wrangler Jeans, Mattel, Revlon, Saks, Lever Brothers and Seagram & Sons. Ward has been on the teaching staff at the Art League of Long Island for twelve years. His watercolors are in private and corporate collections throughout the United States.

Peter Pitzele, Ph.D., is a teacher and author.

Denise A. Bibro is a writer, gallerist, and curator, and is owner of Denise Bibro Fine Art in New York City.

Bridget (Bree) Shirvell is a NY-based freelance writer covering food systems, climate crisis solutions and the science behind relationships Her work has appeared in the New York Times, the Washington Post, Martha Stewart Living, Civil Eats, and more.