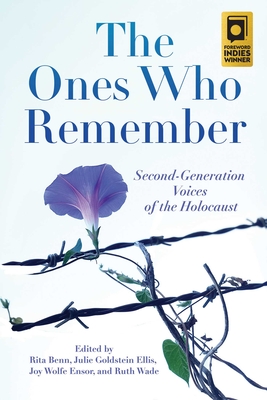 The Ones Who Remember
Second-Generation Voices of the Holocaust
Paperback

* Individual store prices may vary.
Description
How do you talk about and make sense of your life when you grew up with parents who survived the most unimaginable horrors of family separation, systematic murder and unending encounters of inhumanity? Sixteen authors reveal the challenges and gifts of living with the aftermath of their parents' inconceivable experiences during the Holocaust.

The Ones Who Remember: Second-Generation Voices of the Holocaust provides a window into the lived experience of sixteen different families grappling with the legacy of genocide. Each author reveals the many ways their parents' Holocaust traumas and survival seeped into their souls and then affected their subsequent family lives – whether they knew the bulk of their parents' stories or nothing at all.

Several of the contributors' children share interpretations of the continuing effects of this legacy with their own poems and creative prose. Despite the diversity of each family's history and journey of discovery, the intimacy of the collective narratives reveals a common arc from suffering to resilience, across the three generations. This book offers a vision of a shared humanity against the background of inherited trauma that is relatable to anyone who grew up in the shadow of their parents' pain.
City Point Press, 9781947951501, 352pp.
Publication Date: April 12, 2022
About the Author
Rita Benn is a clinical psychologist and adjunct faculty at the University of Michigan medical school. She teaches mindfulness meditation to education and healthcare professionals, cancer patients and their caregivers and established nonprofits to advance its practice. Dr. Benn and her husband Steve, both originally from Montreal, have three children and three grandchildren.


Julie Ellis is devoted to family, elder care, and volunteerism. Like her survivor parents, she helps keep generations of her cousins connected. A graduate of the University of Michigan, Julie has held management positions in retail and consulting. She and her husband Charles, an emeritus professor, have a son and daughter-in-law who are journalists in New York.

Joy Wolfe Ensor is a psychologist whose professional career has focused heavily on the intergenerational legacy of trauma. She was born in New York City a few years after her parents and older brother arrived in the US. Joy and her husband Doug have two adult daughters and one granddaughter.

A retired executive, Ruth Wade currently volunteers at the Florida Holocaust Museum as a speaker and docent. She also assists her survivor father, Sidney Finkel, with his book and speaking engagements. Ruth grew up in Chicago and resided over twenty years in Ann Arbor, Michigan. She has one son, named for her father's brother Isaac.