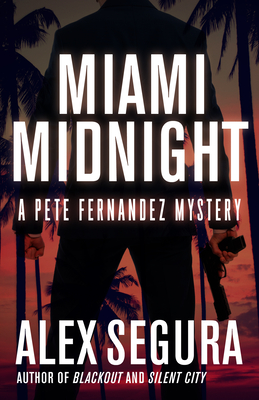 Miami Midnight (Pete Fernandez #4) (Hardcover)
Polis Books, 9781947993594, 336pp.
Publication Date: August 13, 2019
* Individual store prices may vary.
Description
THE NEW NOVEL IN ALEX SEGURA'S ACCLAIMED PETE FERNANDEZ SERIES A year has passed since Pete Fernandez's latest, closest brush with death and he's managed to rebuild his life, running a small bookstore by day and working cases in Miami by night. Sober and finally embracing life, Pete still finds himself watching as events whizz by -- including the engagement of an old flame. When an aging Cuban mobster asks Pete to find out who killed his drug-addicted, jazz pianist son and to locate his missing daughter-in-law, Pete balks, until another dead body suggests that the death of the mafioso's son might tie into the people that almost ended Pete's life, and reveal an unexpected, dangerous truth about the Miami private eye's own blurred past.
About the Author
Alex Segura is a novelist and comic book writer. He is the author of four previous novels in his acclaimed Pete Fernandez series: Silent City, Down The Darkest Street, Dangerous Ends (which was nominated for the Anthony Award), and Blackout. He has also written a number of comic books, including the best-selling and critically acclaimed Archie Meets Kiss storyline, the "Occupy Riverdale" story and the upcoming Archie Meets Ramones. He lives in New York with his wife. He is a Miami native. Follow him at @alex_segura.