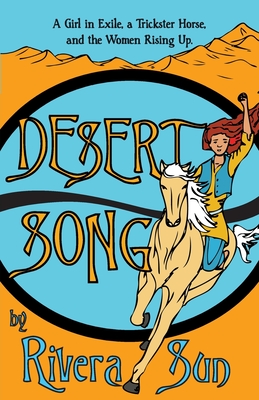 Desert Song
A Girl in Exile, a Trickster Horse, and the Women Rising Up (Ari Ara #3)
Paperback

* Individual store prices may vary.
Other Editions of This Title:
Hardcover (5/29/2020)
Description
WINNER - 2020 NAUTILUS AWARD - SILVER MEDAL
A wild ride full of danger and adventure
Exiled to the desert, Ari Ara is thrust between the warriors trying to grab power . . . and the women rising up to stop them
The world of her father's people is made of song and sky, heat and dust. Ari Ara wants nothing more than to be a proper daughter to her father, the Desert King. But nothing she does is right She can't sing the songs correctly, her trickster horse bolts, her friend is left for dead, and Ari Ara has to run away to save him. Every step she takes propels her deeper into trouble. A mysterious young songholder offers to guide her, a seer sends them on a wild goose chase, they rescue a young woman from a forced marriage - and accidentally set the army camp on fire Before long, she's swept into a women's uprising against the warriors who are trying to seize power.
Ari Ara has to find her place - and her voice - in this strange culture...but time is running out. Warriors-rule rises across the desert. One by one, the women's voices are being silenced, cut from the Desert Song. Can Ari Ara and her friends restore the balance before violence breaks out?
"An amazing story about how young people must navigate the space between fitting in and standing out from the crowd."
This is Book Three of The Way Between - Ari Ara series. It is a complete story and may be read independently, but as one person said "The story of this book can stand alone but why cheat yourself?" They are fun to read in any order but best is to read the whole series
Get your copy right now ...
From the Reviewers of the Ari Ara books...
"...should be read aloud to everyone, by everyone, from childhood onward... Rivera Sun writes in a style as magical as Tolkien and as authentic as Twain." - Tom Hastings, Director of PeaceVoice, Professor of Conflict Studies at Portland State University
"...a beautiful experience...one that everyone in the world needs - now more than ever" - Heart Phoenix, River Phoenix Center for Peacebuilding
"...expands the imagination into the possibilities of peace and active nonviolence...this book will prepare our children and ourselves for the real-life world we so desperately need" - David Hartsough, Founder Nonviolent Peaceforce, author of Waging Peace
"...couldn't have come at a better time." - Patrick Hiller, Executive Director, War Prevention Initiative
"...an impressive feat, an exciting story that deftly teaches ways to create a world that works for all...outstanding contribution to the field of nonviolence " - Kit Miller, Executive Director, M.K. Gandhi Center for Nonviolence
" Five stars. It's Harry Potter with a contemporary message." - Gayle Morrow, retired Y/A Librarian
"...everyone can enjoy and embrace these masterfully-told, exciting adventures." - Scotty Bruer, Founder, Peace Now
"Rivera Sun's creativity, wisdom, insight and joyful nonviolent activism for all ages fills me with awe and hope." - Veronica Pelicaric, Author, Pace e Bene/Campaign Nonviolence
"I love the book It's a great adventure tale, with all the elements of a classic legend, and an even more important message." - Michael Colvin, Fellowship of Reconciliation, National Council Member
Rising Sun Media, Inc,, 9781948016049, 372pp.
Publication Date: April 11, 2020