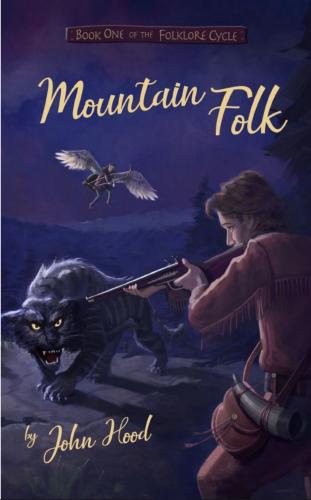 Mountain Folk Book One of the Folklore Cycle
Paperback

* Individual store prices may vary.
Description
John Hood's new novel Mountain Folk uses elements of folklore and epic fantasy to tell the story of America's founding in a fresh and exciting way. Goran is one of the rare fairies who can live without magical protection in the Blur, the human world where the days pass twenty times faster than in fairy realms. Goran's secret missions for the Rangers Guild take him across the British colonies of North America — from far-flung mountains and rushing rivers to frontier farms and bustling towns. Along the way, Goran encounters Daniel Boone, George Washington, an improbably tall dwarf, a mysterious water maiden, and a series of terrifying monsters from European and Native American legend. But when Goran is ordered to help the other fairy nations of the New World crush the American Revolution, he must choose between a solemn duty to his own people and a fierce loyalty to his human friends and the principles they hold dear.
Praise For Mountain Folk Book One of the Folklore Cycle…
"A very good read . . . a fantastical ride!" — FOX-TV

"Beyond the epic fantasy itself, the best magic here is the sorcery that will make early American history accessible to a wide swath of ages, tween to adult, who would otherwise eschew the subject. Not since John Jakes' The American Bicentennial series has the story of our nation's founding been so engaging and approachable." — The Mountain Times

"Combines frontier history with fantasy creatures in a fun and unexpected manner." — Winston-Salem Journal

"A fascinating tale . . . A classic." — The Epoch Times

"Celebrates America's founding and its iconic heroes." — CNS News

"Fairies, elves, dwarves, water maidens, monsters, and more. Soldiers and heroes of the American Revolution. Founding Fathers of our country like Washington and Jefferson. Cherokee and Shawnee women and warriors. A minister turned soldier and politician who is unembarrassed to quote Scripture. Throw all these ingredients into a stew pot of fiction, turn up the burner, and you soon have bubbling on the stove John Hood's Mountain Folk. Sounds crazy, but it it works!" — Smoky Mountain Living

"The founding of America through folklore and fantasy." — Charlottesville Daily Progress
Defiance Press & Publishing, 9781948035859, 407pp.
Publication Date: June 8, 2021
About the Author
John Hood is a syndicated columnist, teacher, and foundation executive with a deep passion for both American history and speculative fiction. The author of several critically acclaimed books of economic and political history, Hood has reported on governments from town councils to Congress and written for the Wall Street Journal, USA Today, Military History, and dozens of other publications. A frequent television and radio commentator and winner of the 2016 book award from the North Carolina Society of Historians, he teaches public policy to Duke University graduate students and tap dancing to tweens and teens.