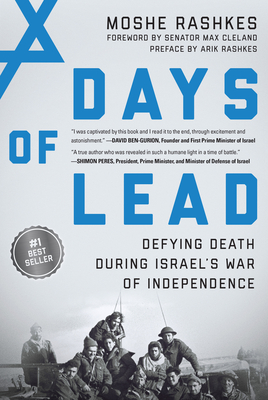 Days of Lead (Hardcover)
Defying Death During Israel's War of Independence
Apollo Publishers, 9781948062022, 208pp.
Publication Date: April 17, 2018
* Individual store prices may vary.
Description
#1 Best Seller - Over 50,000 Copies Sold

Hailed by the likes of Israel's founder David Ben-Gurion, Days of Lead is a gripping best seller recounting the author's life on the front line during Israel's War of Independence and is internationally released for the first time in conjunction with Israel's 70th birthday.

Exquisitely written with a poetically beautiful touch, Days of Lead is the page-turning true story of a young soldier's brave escapades during Israel's War of Independence in 1948. This incredible account, an immediate best seller in Israel on its release in 1962 and destined to be celebrated internationally for years to come, is a story of determination and heroism, but also a stinging portrait of life on the battlefield--of looking an enemy soldier, also wide-eyed and only eighteen, in the eyes and knowing that it's his life or yours, either you take a life or you lose yours. Far from a regular coming-of-age story, this is a firsthand account of a young man trying desperately to save the lives of his fellow soldiers, but watching them taken down one-by-one until he's the last man alive on his platoon. It's heartrending, but enthralling.

This new edition of Days of Lead, published in English and internationally released for the first time, provides an up-close view of Jerusalem and Tel Aviv long before they became the bustling cities we know today. It also presents fascinating, never-before-shared context on the making of the book and its enduring relevancy, as Israeli soldiers continue to fight for Israel's right to exist.

In a personal letter to the author, Israel's founder and first prime minister, David Ben-Gurion, one of many well-known celebrators of the book, writes, "I started reviewing your book without the intention of reading to its end, but from the first pages I was captivated and I read it to the end through excitement and astonishment. From where all the sudden pops up such mighty expression, truth telling, and wonderful description? It seems to me that until now I have not read such a precise and true story of combat from the War of Independence. . . . You have contributed a valuable asset . . . to our literature at large."
About the Author
Moshe Rashkes was a platoon leader in Israel's War of Independence and received a Citation of Valor when he was discharged in 1948 after a serious injury. In 1950, he was named chairman of Israel's Disabled War Veterans Organization, where he was responsible, through 1958, for the rehabilitation of more than six thousand disabled veterans. In 1965, he was named chairman, a position he continues to hold, of Israel's Ilan Center for the Physically Disabled, a world-class rehabilitative sports center. Under his leadership, the center became one of the largest and most successful rehab sports facilities in the world. In addition to being a best-selling author of Days of Lead, Rashkes wrote three other highly acclaimed books and was a journalist who covered the Six-Day War, among other events. He lives in Herzeliya, Israel. Max Cleland represented Georgia in the US Senate from 1997-2003. Prior to this, he was Georgia's Secretary of State, the US Administrator of Veteran Affairs, and a Member of the Georgia Senate. Cleland was a Captain in the US Army during the Vietnam War when he was severely injured by a grenade that later caused the amputation of his two legs above the knee and his right forearm. He was twenty-five years old at the time. Among other recognitions, Cleland received a Silver Star and a Bronze Star for valor in combat. Senator Cleland is the author of Heart of a Patriot, Strong at the Broken Places, and Going for the Max. He lives in Atlanta, GA. Arik Rashkes, the son of author Moshe Rashkes, grew up in Herzeliya, Israel and served as a lieutenant in the Israeli army for five years. He moved to the United States in 2001, and today lives with his wife and four children in Hoboken, NJ.