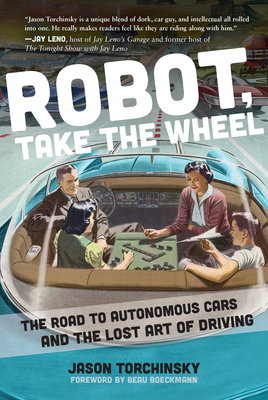 Robot, Take the Wheel (Hardcover)
The Road to Autonomous Cars and the Lost Art of Driving
Apollo Publishers, 9781948062268, 240pp.
Publication Date: May 7, 2019
* Individual store prices may vary.
Description
From the star of the YouTube sensation Jason Drives, the senior editor of the acclaimed website Jalopnik, and a producer of Jay Leno's Garage comes the wittiest and most insightful guide yet to self-driving cars and the road ahead.
Self-driving cars sound fantastical and futuristic and yet they'll soon be on every street in America. Whether it's Tesla's Autopilot, Google's Waymo, Mercedes's Distronic, or Uber's modified Volvos, companies around the world are developing autonomous cars. But why? And what will they mean for the auto industry and humanity at large?
In Robot, Take the Wheel, famed automotive expert Jason Torchinsky gives a colorful account of the development of autonomous vehicles and their likely implications. Torchinsky encourages us to think of self-driving cars as an entirely new machine, something beyond cars as we understand them today. He considers how humans will get along with these robots that will take over our cars' jobs, what they will look like, what sorts of jobs they may do, what we can expect of them, how they should act, ethically, how we can trick them and have fun with them, and how we can make sure there's still a place for those of us who love to drive, especially with a manual transmission.
This vibrant volume brims with insider information. It explores what's ahead and considers what we can do now to shape the automated future.
About the Author
Jason Torchinsky is the senior editor of Jalopnik, a cutting-edge news and opinion website about cars, technology, and the automotive industry, and has written for other publications owned by Fusion Media Group (formerly Gawker Media), such as Gizmodo and Jezebel. Torchinsky is also a producer of Jay Leno's Garage, which he's guest starred on, and is the star of his own show, Jason Drives, an internet show run by Jalopnik, which features Torchinsky driving obscure cars. The show, "Where the incomparable Jason Torchinsky drives everything you've never heard of" (according to its tagline), is now in its third season, has more than twenty-three videos to-date and millions of views and subscribers on YouTube and Facebook. One episode alone boasts more than two million views on YouTube. Torchinsky is also a stand-up comic who has opened for George Carlin; an artist whose installations have exhibited around the world; and the coauthor of Ad Nauseam: A Survivor's Guide to American Consumer Culture. A long-time resident of Los Angeles, CA, Torchinsky recently returned to his home state, North Carolina. He lives in Chapel Hill, NC. Beau Boeckmann is president and COO of Galpin Motors, America's most recognized Dealership Group and home of the #1 Volume Ford Dealer in the World. In 2006 Boeckmann founded Galpin Auto Sports, which led to a starring role and production title on the #1 rated automotive television show, Pimp My Ride. Boeckmann has been honored with several industry awards including the Peterson Automotive Museum's first Visionary Award and was inducted into the National Rod & Custom Car Hall of Fame. Boeckmann serves as a key member of Ford Motor Company's Product Committee, Aston Martin's Dealer Advisory Panel, and the Ford Dealers Advertising Association. He lives in Los Angeles, CA.