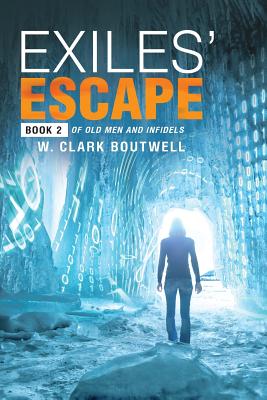 Exiles' Escape
Book 2 of Old Men and Infidels
Paperback

* Individual store prices may vary.
Description
Nominated for the 2019 Prometheus Award for Best Novel
Malila is dead by her own hand--at least, that is what she hopes General Jourdaine and the entire Unity will believe. Middle-aged eighteen-year-old Malila Chiu has no choice but to escape her homeland. Making common cause with the strange subterranean workers of the beltways, Malila perseveres toward freedom in the Scorched fields of America. Nearly naked, with no friends, no resources and only a scant idea of the route, Malila's only real information comes from time in the outlands. While a captive of the old, harsh-and-tender-by-turns Jesse Johnstone, Malila learned of the lies told her by her homeland and the truths shown her by the arrogant and contradictory Jesse. She thinks she may love him. If only he were not so strange . . . Pursuing Malila and becoming more obsessed with each failure, Jourdaine moves closer at each turn. Jesse, once again the target for assassination from old enemies, escapes to the skies, using a huge new American R-ship, the Illinois, in his own attempt to find Malila. Spies, subterranean poet-socialists, virtual entities, interfaces, and people--both good and bad--wrestle the Fates for survival and supremacy in a twenty-second-century America.
Indigo River, 9781948080002, 368pp.
Publication Date: February 6, 2018
About the Author
Born in Chicago and raised outside Philadelphia, Clark has been a practicing physician for over forty-five years. He has taught his craft, intensive care for newborn infants, on four continents and eight countries. He lives with his bride of 40 years in Alabama. An avid backpacker, and climber, he started solo hiking at eleven. Faith, disbelief, truth, illusion and the humor of the human soul compels him to write.