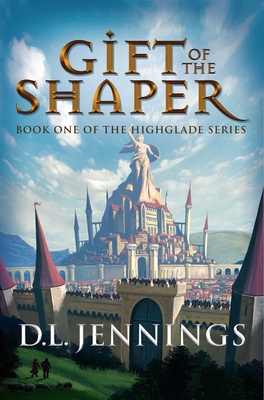 Gift of the Shaper
Book One of the HIGHGLADE Series
Paperback

* Individual store prices may vary.
Other Editions of This Title:
Hardcover (4/18/2019)
Description
"An exceptional series opener …" - Kirkus Reviews

Armies will clash and gods will die…

For thousands of years, the Breaker of the Dawn has been locked away in the ethereal plane of the Otherworld. Now, a young blacksmith's apprentice finds himself trapped in a war between the noble Athrani, a subset of humanity gifted with the ability to transmute matter, and the malevolent and powerful Khyth, who seek to free the ancient god from his prison. Gift of the Shaper chronicles the epic struggle between the existing forces of good and evil, with both sides vying for control of the key that unlocks the Otherworld. The very powers of creation and destruction hang in the balance, and only a heroic effort can possibly stop the Khyth from unleashing ruin upon their world.

"...a rollicking good read that is for the fantasy fiction lover in all of us. ... packed full of adventure, action, suspense, and horror. ...akin to the classics of fantasy fiction from Tolkien and modern-day George RR Martin." -Seattle Book Review

"The Highglade series is nothing short of pure wonder. This is what fantasy should be. D.L. Jennings has created a rich, layered world that readers will love to get lost in. A must read for any fan of fantasy." - Luke Newman, Amazon bestseller, and author of the LEGENDARY series.
Indigo River Publishing, 9781948080071, 458pp.
Publication Date: February 7, 2018
About the Author
David "D. L." Jennings is a fourteen-year veteran of the United States Air Force and Air Force Special Operations Command. Deploying to Iraq and Afghanistan as well as several countries in Africa, he finished writing his debut novel, Gift of the Shaper while serving on his ninth combat tour.

After separating in 2018, he spends his time reading and writing epic fantasy, traveling, listening to '90s punk, and bemoaning being an Ohio sports fan.