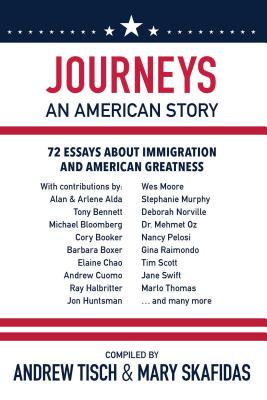 Journeys
An American Story
Hardcover

* Individual store prices may vary.
Description
Every family has a story of how they arrived in America, whether it was a few months, years, decades, or centuries ago. Journeys: An American Story celebrates the vastness and variety of immigration tales in America, featuring seventy-two essays about the different ways we got here. This is a collection of family lore, some that has been passed down through generations, and some that is being created right now.

Journeys captures the quintessential idea of the American dream. The individuals in this book are only a part of the brilliant mosaic of people who came to this country and made it what it is today. Read about the governor's grandfathers who dug ditches and cleaned sewers, laying the groundwork for a budding nation; how a future cabinet secretary crossed the ocean at age eleven on a cargo ship; about a young boy who fled violence in Budapest to become one of the most celebrated American football players; the girl who escaped persecution to become the first Vietnamese American woman ever elected to the US congress; or the limo driver whose family took a seventy-year detour before finally arriving at their original destination, along with many other fascinating tales of extraordinary and everyday Americans.

In association with the New-York Historical Society, Andrew Tisch and Mary Skafidas have reached out to a variety of notable figures to contribute an enlightening and unique account of their family's immigration story. All profits will be donated to the New-York Historical Society and the Statue of Liberty Ellis Island Foundation.

Featuring Essays by:
Alan Alda
Arlene Alda
Tony Bennett
Cory Booker
Michael Bloomberg
Barbara Boxer
Elaine Chao
Andrew Cuomo
Ray Halbritter
Jon Huntsman
Wes Moore
Stephanie Murphy
Deborah Norville
Dr. Mehmet Oz
Nancy Pelosi
Gina Raimondo
Tim Scott
Jane Swift
Marlo Thomas
And many more!
Praise For Journeys: An American Story…
"These words, in various forms, come from Jews who escaped the Holocaust and the Soviet Union, from those fleeing poverty and hopelessness on just about every continent as well as religious and/or political persecution. More than 70 voices combine to create a powerful chorus singing a hymn of hope and gratitude." — Kirkus Review
— Kirkus Reviews

"It's no secret that immigration has been a major reason behind America's 242 (and counting) years of success. The stories that Andrew and Mary share illustrate the positive and powerful impact that immigration has had in weaving the fabric of America. 'Journeys' is inspiring — I encourage you to read." — Warren Buffett

"When I went to Ellis Island, and saw the steamer tickets of my Greek grandparents who arrived here as refugees in the 1920s, I wept. This is a nation built on immigration, and we are far richer in understanding this through the brilliant work in Journeys. Reading it is a timeless journey through the American Dream itself, in all its power and glory." — James Stavridis, PhD Admiral, US Navy (Retired) Supreme Allied Commander at NATO, 2009-2013 Dean, The Fletcher School of Law and Diplomacy Tufts University

"The story of America's immigrants is America's story. What distinguishes us from so many other nations is that most us know the stories of our ancestors who came to this country in search of a better life. "Journeys" tell these stories eloquently, movingly, and personally." —Lawrence S. Bacow, President Elect, Harvard University

"Mary Skafidas and Andrew Tisch do an amazing job illuminating these personal stories of immigration. I laughed, shed tears, and marveled at humanity with each story. As an immigrant from Zambia, it is wonderful to feel such kinship with this group of incredible people and share in the celebration of our adopted country."
—Angela Kaya Mwanza, Senior Vice President, Wealth Management, UBS

"This highly readable collection of personal essays conveys the dreams and strengths of the immigrants who have come from around the world. It is a timely reminder of the essential role of immigrants in our national success story, including science, the arts, and economic well-being. And you'll likely find a reflection of your own family's experience between these covers." —Abby Joseph Cohen, Senior Investment Strategist, Goldman Sachs

"What makes America great? Journeys: An American Story reminds us that we are a nation of immigrants, whose dreams, talent, and hard work are at the core of our success. Thanks to Andrew Tisch and Mary Skafidas for this wonderful book, which reminds us not only where we came from—but where, at our best, we can go from here." —Joanne Lipman, Journalist and author of That's What She Said

"Immigration is the lifeblood of America. Immigrants have been and continue to be a driving force for innovation and economic growth, while enriching and reinforcing America's culture. "Journeys" shares the stories that truly capture the American dream. I encourage everyone to read it to better understand the human spirit and the power of the American experiment." — Neil Blumenthal, Co-Founder and Co-CEO of Warby Parker

"Through Journeys: An American Story, what emerges with all its unique imagery is the inspiration that we can all make our way in this world, often beyond our wildest dreams." — Tovah Feldshuh, American actress, singer and playwright
RosettaBooks, 9781948122016, 360pp.
Publication Date: July 3, 2018
About the Author
Andrew Tisch is co-chairman of the board and chairman of the executive committee of Loews Corporation. Andrew's great-grandfather emigrated to America in 1904.

Mary Skafidas is the head of Investor Relations and Corporate Communications for Loews Corporation. Mary's parents emigrated to America in 1970.
or
Not Currently Available for Direct Purchase