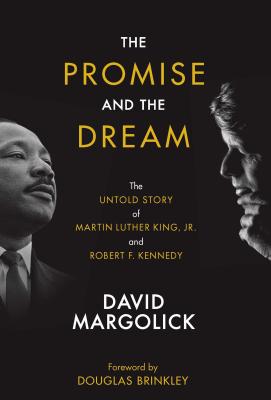 The Promise and the Dream (Hardcover)
The Untold Story of Martin Luther King, Jr. And Robert F. Kennedy
RosettaBooks, 9781948122269, 400pp.
Publication Date: April 3, 2018
Other Editions of This Title:
Compact Disc (8/20/2019)
MP3 CD (8/20/2019)
* Individual store prices may vary.
Description
No issue in america in the 1960s was more vital than civil rights, and no two public figures were more crucial in the drama of race relations in this era than Martin Luther King, Jr., and Robert F. Kennedy. Fifty years after they were both murdered, noted journalist David Margolick explores the untold story of the complex and ever-evolving relationship between these two American icons.

Assassinated only sixty-two days apart in 1968, King and Kennedy changed the United States forever, and their deaths profoundly altered the country's trajectory. In The Promise and the Dream, Margolick examines their unique bond and the complicated mix of mutual assistance, impatience, wariness, awkwardness, antagonism, and admiration that existed between the two, documented with original interviews, oral histories, FBI files, and previously untapped contemporaneous accounts.

At a turning point in social history, MLK and RFK embarked on distinct but converging paths toward lasting change. Even when they weren't interacting directly, they monitored and learned from, one another. Their joint story, a story each man took some pains to hide and which began to come into focus only with their murders, is not just gripping history but a window into contemporary America and the challenges we continue to face.

Complemented by award-winning historian Douglas Brinkley's foreword and more than eighty revealing photos by the foremost photojournalists of the period, The Promise and the Dream offers a compelling look at one of the most consequential but misunderstood relationships in our nation's history.
About the Author
David Margolick is a long-time contributing editor at Vanity Fair. Prior to that, for fifteen years he was a legal affairs reporter at the New York Times, where he covered the trials of O.J. Simpson and Lorena Bobbitt, among others, and wrote the weekly "At the Bar" column. His work there was nominated four times for the Pulitzer Prize. He has been a frequent contributor to the New York Times Book Review, and the Wall Street Journal's weekly Review section. He is the author of many books, including Dreadful: The Short Life and Gay Times of John Horne Burns; Elizabeth and Hazel: Two Women of Little Rock; Beyond Glory: Joe Louis vs. Max Schmeling, and a World on the Brink; and Strange Fruit: The Biography of a Song. He lives in New York City.
Praise For The Promise and the Dream: The Untold Story of Martin Luther King, Jr. And Robert F. Kennedy…
"To have any hope of making sense of it all, we need a discerning… work that not only identifies the most important events of 1968 but also puts them in historical context. This is what David Margolick's "The Promise and the Dream" give us in large measure, an engaging work of popular history that revisits the interconnected lives of the Rev. Martin Luther King, Jr. and Robert F. Kennedy." — The New York Times Review

"I knew Martin Luther King like a brother, and David Margolick captures the cautious mutual admiration that existed between him and Robert Kennedy. Margolick has developed a portrait of two leaders cut down before the prime of life, and suggests what they might have done, separately or together, had they each lived twenty years longer." —Ambassador Andrew Young

"[A] fascinating, elegiac account." —Chicago Tribune

"Although the lives of both men have been covered in detail, Margolick does a fine job of not only portraying crucial events—with the help of new interviews and newly unsealed histories and documents—but also plowing through the misty romanticism that still surrounds these men." — Kirkus Review

"Margolick interweaves the two biographies skillfully and doesn't shy away from puncturing idealization of 1960s progressivism with warts-and-all depictions of both men and their faults, tempers, and agendas. This is a valuable contribution to the body of work on 1960s America." — Publishers Weekly

"Given the distance between them, bringing King and Kennedy together in one book is a masterstroke that allows for a more complete analysis of two key figures in the American experience during the 1960s…. Knowing what's coming in 1968, Margolick still manages to keep the tension ratcheted up as he provides the highlights of their rollercoaster-like lives." —Washington Independent Review of Books

"A vivid, vibrant, deeply thoughtful and well-informed reflection on the 1960s' two most fascinating public figures." —David J. Garrow, Pulitzer Prize-winning author of Bearing the Cross and Rising Star

"The Promise and the Dream is a superb book about two extraordinary leaders. David Margolick describes, as no one before him ever has, the dynamic but sometimes strained relationship between Martin Luther King and Robert Kennedy — how they ascended the same mountain from opposite sides, and how they almost made it to the top together." —William vanden Heuvel, former deputy ambassador to the United Nations and long-time aide to Robert F. Kennedy

"Five decades may have passed, but in the adept hands of David Margolick the 1960s and two of its most compelling figures and are made vivid, immediate, and most of all inspiring. King and Kennedy were giants; Margolick traces the braided arcs of their lives and the confluence of their deaths with the narrative power and literary grace they both deserve." —Daniel Okrent, author of Last Call: The Rise and Fall of Prohibition and former public editor of The New York Times.

"What might Martin Luther King and Bobby Kennedy have achieved together? David Margolick's prodigious research and narrative power gives us a haunting and original insight into the eight-year dance between the dreamer and the doubter. We relive the mental and spiritual anguish of the last two great years of King's life and Bobby Kennedy's valorous efforts to realize the deep poetic vision his critics never could see in the "ruthless brat" of an Attorney General." —Harold Evans, author of The American Century

"Bobby Kennedy and Martin Luther King were the perhaps the last American heroes. Now, for the first time, David Margolick tells the surprising, moving and gripping story of their intertwined lives – their conflicts, mutual suspicion, quiet reciprocal support, and shared vision of an America free of racial prejudice. Margolick's fresh research, lapidary prose, and keen appreciation of these men's importance all make this book a must read, especially in our own political dark times." —David Greenberg, Professor of History, Rutgers University, author, Republic of Spin: An Inside History of the American Presidency

"Only the rarest journalist or historian is ever able to make sense of a moment in our past that has transformed the world where we live today. Yet that's what David Margolick has done in his remarkable The Promise and the Dream: The Untold Story of Martin Luther King Jr. and Robert F Kennedy. If it suffers from one flaw, it is that I was utterly unable to put it down, thereby totally destroying my weekend as I paged through amazing detail after vivid detail about his two extraordinary subjects." — David A. Andelman, Pulitzer Prize-winning Journalist

One of the greatest moments in modern American history was the Civil Rights movement. An important part of that history was Bobby Kennedy's relationship with Dr. King. Together, these men were forging a new path. The Promise and the Dream: The Untold Story of Martin Luther King, Jr. And Robert F. Kennedy does much to tell the incredible story of that period in our country. It is a work that should be read by as many people as possible. — Harry Belafonte
or
Not Currently Available for Direct Purchase