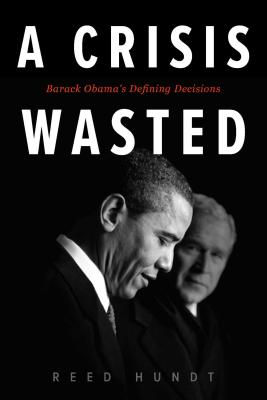 A Crisis Wasted
Barack Obama's Defining Decisions
Hardcover

* Individual store prices may vary.
Other Editions of This Title:
Compact Disc (4/2/2019)
MP3 CD (4/2/2019)
Description
This book is the compelling story of President Obama's domestic policy decisions made between September 2008 and his inauguration on January 20, 2009.

Barack Obama determined the fate of his presidency before he took office. His momentous decisions led to Donald Trump, for Obama the worst person imaginable, taking his place eight years later.

This book describes these decisions and discusses how the results could have been different. Based on dozens of interviews with actors in the Obama transition, as well as the author's personal observations, this book provides unique commentary of those defining decisions of winter 2008–2009.

A decade later, the ramifications of the Great Recession and the role of government in addressing the crisis animate the ideological battle between progressivism and neoliberalism in the Democratic Party and the radical direction of the Republican Party. As many seek the presidency in the November 2020 election, all candidates and of course the eventual winner will face decisions that may be as critical and difficult as those confronted by Barack Obama. This book aims to provide the guidance of history.
Praise For A Crisis Wasted: Barack Obama's Defining Decisions…
"An impressive compendium of basic background information, learned and seasoned argument deftly presented throughout, "A Crisis Wasted: Barack Obama's Defining Decisions" is one of those unusual historical studies that has a direct relevance to the political science of today. Simply stated, "A Crisis Wasted" should be on the reading lists of every one seeking office (or helping someone seek office) in the Congress and in the Administration as the new presidency cycle of 2020 is underway and being actively contested." —Midwest Book Review

"It is a rich and frustrating experience re-living these contentious discussions, and in relating them, Hundt shines. He lets his sources speak for themselves, differing sometimes not only on what they say should have happened, but on what they say did happen." —Eric Rauchway for Boston Review

"A meticulous blow-by-blow reconstruction of Obama's transition to power. [Reed Hundt] is asking the important questions. …[And] has a broader vision of what government could do…" —Simon Johnson for The American Prospect

"A cautionary analysis for future leaders." - Kirkus Reviews

"You'll come away from this book admiring Hundt's rare ability to mix thoughtful economic and political analysis with a front row narrative of recent history, topped off by a flair for pungent, clear writing. Hundt persuasively presents the blow by blow story of a president and his team wasting the "opportunity" of the Great Recession to change the fundamentals of the economy in a way that would have galvanized the middle class." — Steven Brill, Author of TAILSPIN: The People and Forces Behind America's Fifty-Year Fall–And Those Fighting to Reverse It

"I bet you never thought the decision to make the 2009 fiscal stimulus $787 billion could read like a novel. Think again. In Hundt's hands, it does. I don't agree the Obama team "wasted" the crisis of 2008-2009, though I am critical of its feeble attempts to stem the tsunami of foreclosures. In any event, this book explains the decisions made and is a useful springboard for thinking about how to handle the inevitable next crisis." — Alan Blinder, Professor of Economics at Princeton University and former Vice Chairman of the Board of Governors of the Federal Reserve System

"This is a vivid and fascinating book, and also an important one. Reed Hundt has set out to offer a provocative interpretation, and he has succeeded. His book should start a debate on what went wrong and how it can be put right." — James Fallows, National Correspondent for The Atlantic Monthly and former editor of U.S. News & World Report

"Reed Hundt has written the definitive book on the failure of Barack Obama to seize what should have been a Roosevelt moment. In a deeply reported and compelling read, the book lays bare how neoliberal ideology and capture of policy by Wall Street allies combined fatally with the folly of Obama's wish to be a post-partisan president." — Robert Kuttner, Co-founder and Co-editor of The American Prospect and writer for Business Week, The Boston Globe, and The Huffington Post

"A powerfully lucid, compelling and surprising achievement. [A Crisis Wasted] makes a subtle but irresistible argument that, given the conservative undertow of American politics, liberals and progressives who are serious about change can't just wing it but must prepare detailed economic policy analyses and prescriptions long in advance of taking power." — Congressman Jamie Raskin, Representative from Maryland's 8th District

"Reed Hundt's book is utterly unique and enormously useful. It brings together a panoply of perspectives from key advisors, providing not only an historical record of what went wrong all those years ago but also a guide to how to make better decisions moving forward." — Robert B. Reich, Former U.S. Secretary of Labor and Chancellor's Professor at the University of California at Berkeley

"Reed Hundt has written a powerful cri de coeur over the roads not taken in President Obama's first term: in his view, the president-elect forgot how he got elected, and favored Wall Street over homeowners, deficit hawks over the middle class, and costly health care reforms over the chance to make a difference on climate change. This book is essential reading for all interested in politics and in the future of the country as they confront tough choices ahead." — Steven R. Weisman, author of The Chosen Wars: How Judaism Became an American Religion and The Great Tradeoff: Confronting Moral Conflicts in the Era of Globalization

"This remarkable book—by turns informative and depressing—is about the political choices made by Barack Obama and his advisors in response to the financial crisis. Reed Hundt explains how their fateful decisions were shaped by reigning neo-liberal dogma. In the end, we understand how their hesitations and misdirections helped set the stage for our current political disaster." — Joshua Cohen, Faculty, Apple University; Distinguished Senior Fellow, University of California, Berkeley, Editor, Boston Review

"Based on extensive research, and an author who knows all of the key players, we learn how a brilliant new President can be hamstrung by history and down-and-dirty politics. A must-read for anyone interested in policy, leadership, and the future of the American Presidency." — David Yoffie, Professor of International Business Administration at Harvard Business School

"Reed Hundt offers a sweeping insider's view of exactly how the Obama Presidency came together, which issues got prioritized, and what people got leading roles – and how the critical decisions of those first few months after the 2008 election set the course of the eight years to follow. A Crisis Wasted is a must-read book for anyone interested in the Washington scene and how we got to the current political moment." — Dan Esty, Hillhouse Professor of Environmental Law and Policy at Yale University

"The party of progress needs to take a pause to understand just what went wrong the last time they held the reigns. There is no better, no more sobering account, than this. The tyranny of tiny thinking, by the smartest in the room: this is the mistake we cannot make again." — Lawrence Lessig, Roy L Furman Professor of Law and Leadership at Harvard Law School

"Hundt has written a deeply appealing book about the key decisions of the Obama campaign and the six months after the election – the embrace of the emergency bank lending, the size of stimulus, neglect of housing foreclosures, and commitment to health care rather than rhetorically powerful measures to combat climate change. All this is rendered with affection, good humor, and a novelist's eye for the details of Washington life. Subsequent reconsiderations of domestic policies of the Obama administration will start here." — David Warsh, Journalist and Proprietor of Economic Principals

"The aftershocks of the global financial crisis continue to reverberate throughout the US society and politics. Understanding in what ways the policy response failed to rise to the challenge and how we could have done better still has great urgency. This gripping inside account shows why certain measures that would have helped homeowners were not adopted and why bankers go off scot-free. A great resource for anybody wishing to understand the difficult choices that had to be made and the currents that forced important mistakes." — Daron Acemoglu, Elizabeth and James Killian Professor of Economics at MIT

"Written with verve, clarity and a thorough understanding of the economic and political issues involved, A Crisis Wasted gives us an original and provocative portrait of a great human being who nevertheless failed, in Hundt's view, to seize the opportunity that history presented to him and to the American people." —Anthony Kronman, Sterling Professor and Former Dean, Yale Law School
RosettaBooks, 9781948122313, 400pp.
Publication Date: April 2, 2019
About the Author
Reed Hundt was a member of the transition teams for the Clinton and Obama presidencies. He was the chairman of the Federal Communications Commission in 1993-97. He has written four books, taught at Yale College, Law School, and School of Management, practiced law in California and Washington, DC, started for-profit and non-profit firms, served as a board member for numerous technology and communications firms, and raised a family with his wife Betsy in Chevy Chase, Maryland. He is the author of You Say You Want a Revolution and In China's Shadow.