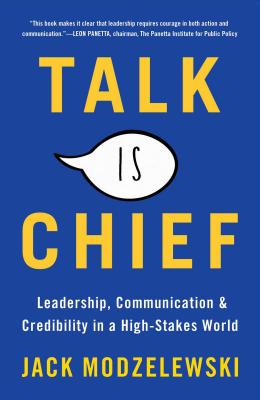 Talk Is Chief
Leadership, Communication, and Credibility in a High-Stakes World
Hardcover

* Individual store prices may vary.
Other Editions of This Title:
MP3 CD (12/10/2019)
Compact Disc (12/10/2019)
Description
With compelling stories and strategies, Talk Is Chief inspires leaders and aspiring leaders to treat their daily communication practices as seriously as their fiscal, operational, value creation, deal making, business transformation, and other executive responsibilities.

Leaders today spend up to 90 percent of each day communicating to make good things happen in their organizations. They communicate with colleagues, customers, shareowners, creditors, regulators, advocates, and competitors. They influence culture, opportunity, risk-taking, and risk aversion. The stakes in this new communication environment are very high, driving home Winston Churchill's statement: "The difference between mere management and leadership is communication."

These days, leaders are likely to face adversity and career-testing situations. Crisis defines leaders and their organizations. But it does not have to take them down. Talk Is Chief provides sound advice, examples, and even a list of the "Ten Commandments of Crisis Management" so that leaders can either avoid crises or avert worst-case scenarios when confronted with an existential threat.

Jack Modzelewski's vast years of experience working with numerous Fortune 500 companies as a communications consultant tells us that too many leaders undervalue and therefore underperform their vital communication responsibilities. They do so at their own disadvantage and sometimes peril in this age of heightened activism, transparency, disinformation, and disruption.

Whether they recognize it or not, leaders are chief credibility officers, with organizational reputations often resting on their words and actions, especially in times of crisis. As a CEO quoted in the book said: "Communication shouldn't be just another hat that a CEO wears. It should be at the core of everything you do."

Leadership communication today—the ability for leaders to be heard and clearly understood above the constant noise of the complicated worlds in which they must lead or govern—is of the highest importance. It's proven that effective leadership communication inspires people to perform collectively better, leading to better outcomes. Which is why Talk Is Chief is a must-read for twenty-first-century leaders.
Praise For Talk Is Chief: Leadership, Communication, and Credibility in a High-Stakes World…
"Jack has brought to the forefront the critical skill necessary in managing complex organizations, navigating unimaginable crises, and leading companies to realize greatness. Communication aligns organizations, supports strong and transparent cultures, and is vital to respond to both opportunities and threats. Jack takes us through valuable lessons ranging from building effective communications structures able to capture the data necessary to make swift decisions to fostering relationships with diverse stakeholders. Intuitive, compelling, and practical for all leaders!" —Jim Brooks, Chief Operating Officer, Control Risks

"Jack Modzelewski has written a must-read primer for anyone being or aspiring to become a leader and/or work in the communication industry…. Read this book and learn from one of the best international communications executives." —Guillaume Herbette, Chief Executive Officer, MSLGroup, Publicis

"Jack Modzelewski has written a must-read book for both seasoned and aspiring business leaders. In Talk is Chief you will learn firsthand why culture, leadership, candid communications and a persistent focus on reinvention are the defining qualities of the world's best-run companies." —Dave Samson, General Manager of Public Affairs, Chevron Corporation

"Communication is the foundation for effective leadership and team harmony within any organization. In Talk is Chief, Jack Modzelewski takes the readers on a journey to prove the power of effective communications and gives leaders the principles needed for implementation within their own organizations. Modzelewski's 40+ years in public relations clearly shine through the entirety of the book. His expertise, deep understanding and thorough market research blend seamlessly together in a must have book for management educators and business leaders. —Dipak Jain, President, China Europe International Business School

"There is no one more qualified to talk about the critical role of communication in driving organizational performance. Jack's experiences as journalist, corporate executive, global communications agency leader and mentor mean he has insight to offer every leader, regardless of setting. And he practices what he preaches: you will be inspired, informed and entertained by this book." —Lisa Macpherson, Fellow, Harvard Advanced Leadership Initiative; Former Chief Marketing Officer, Hallmark Cards

"Modzelewski's book Talk is Chief makes clear what many of us have known for years, which is that communication is the secret ingredient behind every great leader from Caesar to Tim Cook. It's high time leaders of all organizations understand the power of communication and use it to their advantage." —Paul A. Argenti, Professor of Corporate Communication, Tuck School of Business at Dartmouth

"Talk is Chief is a guide to leadership at a challenging time of tweets, fake news and growing divisions within our democracy. The simple fact is that words matter - and that simple words matter the most when they speak to our values. I often say we govern by leadership or crisis. The author makes clear that leadership requires courage in both action and communication." —Leon E. Panetta, Chairman, The Panetta Institute for Public Policy
RosettaBooks, 9781948122528, 240pp.
Publication Date: November 19, 2019
About the Author
Jack Modzelewski is founder and president of JackKnifePR, a business communications consulting firm in Chicago. His extensive career in public relations, marketing, communications, and executive management included roles with global agencies. Most recently, he was president of FleishmanHillard, where he worked for more than 26 years in executive and international positions, including five years as president of Europe & Africa and nearly five as president of the Americas. Modzelewski has more than thirty-five years of experience with corporate and brand communications programs for a wide spectrum of big clients in the telecommunications, automotive, food service, technology, energy, financial, healthcare, and professional sports industries. He has worked with companies such as McDonald's, AT&T, General Motors, Chase Bank, Baxter, Tribune, Monsanto, and Procter & Gamble. He also advised associations such as the Consumer Electronics Association and not-for-profits such as St. Jude Children's Research Hospital. He has considerable first-hand experience in corporate and financial communications, mergers and organizational restructurings, issues management, and all means of strategic stakeholder outreach. He has assisted clients in 25 major crises, both domestic and international. One of Modzelewski's past clients called him the "counsellor's counsellor." He has given speeches and written articles on subjects spanning leadership, international business, marketing and social media, and risk and crisis management. He's attended five World Economic Forum (WEF) conferences in Davos and WEF meetings on five continents. He has been listed on PRWeek's Global Power List and in 2015 was inducted in the Medill Hall of Achievement at Northwestern University. He is currently chairman of the board of the Better Government Association in Illinois, and also sits on the Medill board. Prior to his career in public relations and communications, he was a multi-media, award-winning journalist.