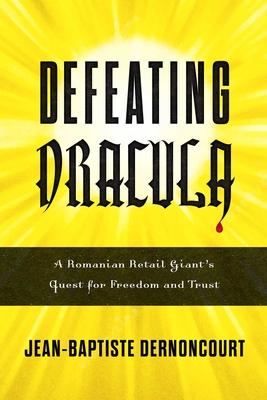 Defeating Dracula (Hardcover)
A Romanian Retail Giant's Quest for Freedom and Trust
RosettaBooks, 9781948122641, 288pp.
Publication Date: October 27, 2020
* Individual store prices may vary.
Description
Monsters lurk where you least expect them. They are in our offices and our meetings. They are in our daily interactions with colleagues, and even sometimes deep within our hearts and minds.

This is the story of one man's monsters—the ones he encountered in his work and the ones he battled within himself. His tale takes place in Romania, but it is a story that transcends borders. It is a battle all of us may fight in any setting—the battle to create trust and transformation in an uncertain and fearful world.

Jean-Baptiste Dernoncourt was named CEO of Carrefour Romania in 2013. Thirty-two years old and faced with the challenge of transforming this large but steady retail operation into an agile, growing enterprise, he approached his task with optimism. Then he encountered the monsters: Entrenchment. Resistance. Legacy systems. Complexity. And above all the feeling of mistrust that ran throughout the company—from the cashiers to the c-suite. This was not a place ready to transform. It was a place of stasis. There was little appetite for change and little hope for anything different.

But as he attacked the challenges before him, he discovered not all his hurdles to success were external. Even as he worked to institute a culture of change in the company, he began to see the need for change within himself. And his work took on another layer—one of self-exploration. In his process of introspection, Dernoncourt uses study, coaching, and even a strong sense of self-deprecating humor to find his way forward as a transformational leader.

This is the story of his transformation, and yours. Accompanied by the words of Bram Stoker's original text to set the mood, Defeating Dracula is a blueprint for the creation of trust in a world where monsters lurk and change seems impossible. Each chapter offers concrete lessons from his efforts to make meaningful changes—both internal and external. It is a way forward and an inspiration for those ready to embark on a transformative journey of their own.
About the Author
Jean-Baptiste Dernoncourt is a retail executive who in a five-year term as CEO led Carrefour's Romanian business to double in size. He has worked in retail—in finance and as a CEO—for ten years, in multicultural environments from France to China to Eastern Europe. He was appointed as CEO of Carrefour Romania in 2013 at the age of thirty-two. In 2017 he added the title of chief digital officer for Northeast Europe, leading the digital transformation of Belgium, Poland, and Romania, from IT and supply chain to marketing, e-commerce, and omnichannel strategy for Carrefour. Born in Paris, he grew up and did his undergraduate studies in Toulouse. He holds a master's degree in Strategy from ESCP Europe and is conversant in six languages. Currently he heads Copap, a Canadian trading house whose purpose is to link mid to large companies from emerging countries to the best supply chains of the world. In his spare time, he enjoys reading, meditating, practicing aikido, and watching the NBA. He now lives in Montreal with his wife and son.