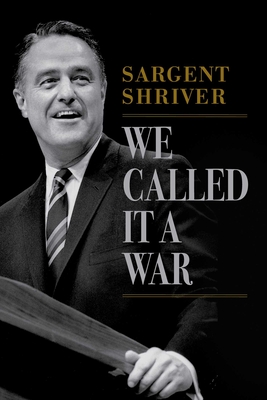 We Called It a War (Hardcover)
RosettaBooks, 9781948122672, 348pp.
Publication Date: January 26, 2021
* Individual store prices may vary.
Description
We Called It A War is Sargent Shriver's first-hand account of leading President Johnson's War on Poverty. Written on the cusp of the 1970s, the manuscript was recently rediscovered among Shriver's personal papers and subsequently edited by long-time friend and law partner, David Birenbaum. The book recounts Shriver's role in translating President Johnson's audacious pledge to end poverty into a working set of social programs that continue to uplift and empower communities across the United States today.

In leading this effort, Shriver was tasked with drafting the requisite legislation, ushering it through a skeptical Congress, creating the Office of Economic Opportunity (OEO), and recruiting the talented anti-poverty warriors who would take the OEO from concept to implementation.

Shriver's words reveal a public administrator skilled at creating major social policy; a global citizen driven by his Catholic faith and commitment to social justice; a principled pragmatist who successfully executed grand ideas; a social entrepreneur whose skeptical approach to bureaucracy enabled him to liberate the creative energies of the diverse individuals who collaborated with him; and a politician who earned the trust and respect of his adversaries.

Shriver's anti-poverty efforts continues to resonate. Virtually all of the War on Poverty programs, many of them conceived personally by Shriver, continue to deliver tangible, consequential benefits to millions of people in all stages of life. These programs include Head start, Community Action, Legal Services, Job Corps, Americorps VISTA, Foster Grandparents, Upward Bound, and Neighborhood Health Services. Fifty years on, Shriver's words remind us that to achieve equal opportunity and justice for all of our sisters and brothers, we must again create an environment that nurtures bold ideas and empowers decisive, community-based action.
About the Author
The architect of the Peace Corps and the War on Poverty, Robert Sargent Shriver, Jr. was born on November 9, 1915 in Westminster, Maryland. He attended Yale University from 1934 to 1941, earning a BA and a law degree. In the Navy during World War II, Shriver spent five years in active service in the Pacific, earning a Purple Heart for wounds he received. He moved to Chicago in 1946 to help run the Merchandise Mart, and seven years later married Eunice Kennedy, sister of John F. Kennedy. In the 1950s, Shriver headed the Public School Board and the Catholic Interracial Council, championing numerous educational reforms and spearheading the integration of the Catholic high schools. In 1960, Shriver led the civil-rights division of John F. Kennedy's Presidential campaign, and was then asked to design and run the Peace Corps, serving as its Director from 1961-1966. In 1964, President Johnson tapped him to lead "an unconditional war on poverty " in addition to the Peace Corps. In this role, he developed a string of community-based programs that continue to uplift and empower poor people at every stage of life. Shriver was US Ambassador to France from 1968 – 70, and then joined the law firm of Fried, Frank, Harris, Shriver, & Jacobson. He was named George McGovern's Presidential running mate in 1972 and was himself a candidate for President in 1976. Shriver subsequently worked to ease inter-religious tensions in the Middle East and to de-escalate the nuclear arms race with the Soviet Union, championing America's No First Strike policy. From 1984 to 2003, Shriver joined his wife, Eunice, at Special Olympics, and helped expand the organization into Eastern Europe, North Africa, and the Asia-Pacific, including China. Despite an Alzheimer's diagnosis in 2003, Shriver remained active well into the 2000s, speaking regularly at public events. He died on January 18, 2011 at the age of 95.
Praise For We Called It a War…
"Just as Sarge Shriver was the man for the moment to lead LBJ's War on Poverty, so the discovery of this invaluable unfinished manuscript has come at the very moment when we need to believe that structural inequalities in our society can and must be addressed. Reading Shriver's riveting account of the early days of Head Start, Job Corps, and Vista is a reminder of a time when people believed that collective action could truly make a difference. It is that conviction, that belief that needs to be recaptured today and this book serves as a profound testament to that belief." —Doris Kearns Goodwin, Pulitzer Prize-winning author and historian

"We Called It a War is about one of the truly great men of the twentieth century. I recommend it to anyone in need of a reminder that the work begun by pioneers like Sarge Shriver is both inspiring and far from done." —Laurence H. Tribe, Carl M. Loeb University Professor and Professor of Constitutional Law Emeritus, Harvard Law School