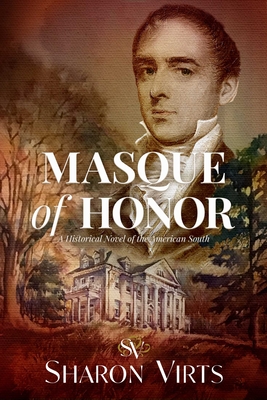 Masque of Honor (Hardcover)
A Historical Novel of the American South
RosettaBooks, 9781948122702, 336pp.
Publication Date: February 9, 2021
* Individual store prices may vary.
Description
In this coming-of-age tale set in early 19th century America, two sons of the Virginia aristocracy risk it all to defend their dreams and determine their own destinies.

General Armistead Mason and John "Jack" Mason McCarty are brothers-in-law, second cousins and descendants of founding father George Mason IV. Ambitious and headstrong, together they set out to find love, acceptance and honor on their own merit. Armistead—by nature a politician—demands respect and strives for perfection. Jack—by inclination a rover—looks to forge his own path. When Armistead is challenged by corruption in the political machine and is denied a seat in the US Congress, the two become embroiled in a bitter dispute that sets in motion an irrevocable chain of events, leading them to the dueling grounds and an outcome that changes everything.

Based on historical events of the 1819 Mason-McCarty duel, Masque of Honor is a story of courage, conviction, and the cost of sacrificing one life to forge another.
About the Author
Sharon Virts is a successful entrepreneur and visionary who, after more than 25 years in business, followed her passion for storytelling into the world of historical fiction. She has received numerous awards for her work in historic preservation and has been recognized nationally for her business achievements and philanthropic contributions. She was recently included in Washington Life Magazine's Philanthropic 50 of 2020 for her work with education, health, and cultural preservation. Sharon's passion truly lies in the creative. She is an accomplished visual artist and uses her gift for artistic expression along with her extraordinary storytelling to build complex characters and craft vivid images and sets that capture the heart and imagination. Sharon and her husband Scott live at Selma, a prominent historic residence that they saved from destruction and restored to its original stature. It is out of the love and preservation of Selma that the story of the life, times, and controversies of its original owner, Armistead Mason, has given root to her first novel Masque of Honor.
Praise For Masque of Honor: A Historical Novel of the American South…
"Powerful and compelling. Her characters step off the page and into your life." —Anthony McCarten, award-winning novelist and screenwriter known for writing biopics, including "The Theory of Everything" (2014), "Darkest Hour" (2017) and "Bohemian Rhapsody" (2018)

"Sharon Virts is a natural storyteller and evocative writer with a keen eye for historical detail and drama. Set in 1816 and based on the true story of the rivalry between two Virginia gentlemen, Masque of Honor unfolds as an epic tale of romance, politics, ambition and power—and paying the ultimate price to defend one's honor." —Susan Koch, EMMY and Peabody award-winning filmmaker

"Sharon Virts' debut novel carries us back to life as it was two hundred years ago in the new State of Virginia. Masque of Honor provides a spicy stew of ambition, envy, honor, courage—and love—as two brothers-in-law drive step by step toward an explosive choice. This is fascinating fiction based on facts, and Virts' writing will captivate readers. Pick it up and you won't want to put it down!" —Pamela Binnings Ewen, author of The Queen of Paris, The Moon in the Mango Tree, An Accidental Life, and Faith on Trial