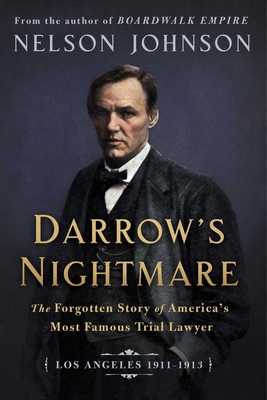 Darrow's Nightmare (Hardcover)
Los Angeles 1911–1913
RosettaBooks, 9781948122733, 368pp.
Publication Date: March 2, 2021
* Individual store prices may vary.
Description
From the author of the New York Times bestselling book and hit HBO series BOARDWALK EMPIRE.

"A fascinating portrait of Clarence Darrow as we've never seen him before - as a criminal defendant. In Darrow's Nightmare, Nelson Johnson tells the riveting tale of America's most famous lawyer as he fights for his life, marriage, career and reputation. I couldn't put it down." —Terence Winter, Creator & Executive Producer, Boardwalk Empire

Clarence Darrow is the most celebrated criminal trial lawyer in American history. In the Spring of 1911, organized labor implored Darrow to represent the McNamara brothers, two union iron workers charged with the murder of twenty employees arising out of the bombing of the Los Angeles Times building. Darrow and his wife Ruby's trip west quickly became a fight for survival. After Darrow negotiated a plea bargain for the McNamaras with the help of the brilliant journalist Lincoln Steffens, Darrow was indicted for attempted bribery of a juror. But for the representation of a charismatic, flamboyant, and troubled genius, California criminal attorney Earl Rogers, Darrow's career might have ended that year in Los Angeles.

The two trials were front-page national news in their day, and then lost to history. Nelson Johnson has brought this two-year episode to life with a cast of memorable characters based upon his study of the 8,500-plus page trial transcript plus many published and unpublished sources (including Ruby's letters to Darrow's biographer Irving Stone).

Darrow's Nightmare is a true story unlike any other—a historical courtroom thriller brought to life.
About the Author
Nelson Johnson practiced law for thirty years and was a New Jersey Superior Court trial judge for thirteen years. In addition to his award-winning Boardwalk Empire, Johnson is also the author of award-winning The Northside: African Americans and the Creation of Atlantic City (November 2010) and Battleground New Jersey: Vanderbilt, Hague, and Their Fight for Justice (December 2014). Johnson's courtroom experience makes him uniquely qualified to tell this story, set in the last days of the "wild west" in Los Angeles. Darrow's Nightmare: Los Angeles 1911-1913 is Johnson's fourth book.
Praise For Darrow's Nightmare: Los Angeles 1911–1913…
"A fascinating portrait of Clarence Darrow as we've never seen him before - as a criminal defendant. In Darrow's Nightmare, Nelson Johnson tells the riveting tale of America's most famous lawyer as he fights for his life, marriage, career and reputation. I couldn't put it down." —Terence Winter, Creator & Executive Producer, Boardwalk Empire