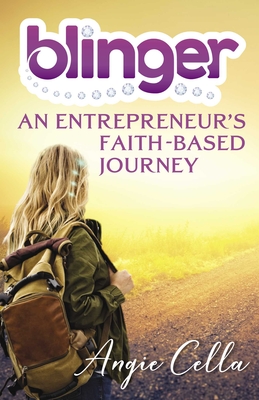 Blinger
An Entrepreneur's Faith-Based Journey
Hardcover

* Individual store prices may vary.
Description
Blinger is the extraordinary story of the exhilarating four-year journey Angie Cella and her four children took, based on her Christian faith and hard work, to make her dream of success come true.

A single mother of four, Angie Cella, dreamed one night about a device that put gems in her hair. She woke up thinking she would invent it, because she loved what she had seen. A few weeks later, she had a second dream. In this one, God told her, "I want you to make this product." As a woman with a burgeoning faith who'd been waiting for just this kind of direction, Angie spent the next several years navigating the tough and often painful—yet ultimately gratifying—road to success.

Blinger is the story of how Angie brought that dream to life, building a successful business out of nothing but inspiration and hard work. Along with helpful business tips, Angie candidly shares all the fun and excitement, plus the letdowns, the failures, and the pain of bringing an invention to life—and how the power of faith can propel us when we feel like we just can't go on anymore.

Blinger is a testament to the belief that any dream is possible if you work hard and stay true to your faith.
RosettaBooks, 9781948122818, 224pp.
Publication Date: October 5, 2021
About the Author
Angie Cella is an inventor, entrepreneur, and a woman of profound faith. Throughout her career, she has dedicated herself to hard work and persistence and to motivating and supporting others to achieve their own dreams. The mother of four awesome children, she lives with them and their three dogs in Pennsylvania.