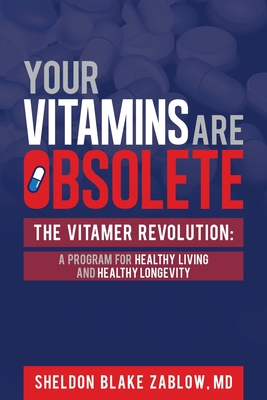 Your Vitamins are Obsolete
The Vitamer Revolution: A Program for Healthy Living and Healthy Longevity
Paperback

* Individual store prices may vary.
Description
Did you know the synthetic B-vitamins found in supplements cannot be absorbed well or easily converted into the bioactive forms our cells actually use? Even other vitamins can't work well if there is not enough of the naturally occurring B forms called vitamers. For example, without B vitamers, taking vitamin D won't prevent osteoporosis. Learn how the naturally occurring vitamers DO work and Why, and start on your pathway to healthy living and longevity today
Your Vitamins are Obsolete explains:
Why vitamer B deficiencies make your vaccines less effective.
How taking B vitamers assists vegans and vegetarians in maximizing their dietary benefits, in some cases even increasing fertility.
Why regular use of B vitamers can decrease your appetite for red meat, promoting personal and environmental health.
How including B vitamers in your diet reduces chronic inflammation, leading to improved health and longevity.
Hybrid Global Publishing, 9781948181860, 214pp.
Publication Date: September 17, 2020