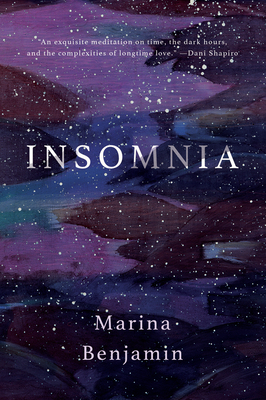 Insomnia
Hardcover

* Individual store prices may vary.
Other Editions of This Title:
Library Binding, Large Print (5/29/2019)
Compact Disc (5/15/2019)
MP3 CD (5/15/2019)
Description
"An insomniac's ideal sleep aid—and that's a compliment. With her collage of ruminations about sleeplessness, [Benjamin] promises no real cure . . . Her slim book is what the doctor ordered."—The Atlantic

Insomnia is on the rise. Villainous and unforgiving, it's the enemy o f energy and focus, the thief of our repose. But can insomnia be an ally, too, a validator of the present moment, of edginess and creativity? Marina Benjamin takes on her personal experience of the condition—her struggles with it, her insomniac highs, and her dawning awareness that states of sleeplessness grant us valuable insights into the workings of our unconscious minds. Although insomnia is rarely entirely welcome, Benjamin treats it less as an affliction than as an encounter that she engages with and plumbs. She adds new dimensions to both our understanding of sleep (and going without it) and of night, and how we perceive darkness.

Along the way, Insomnia trips through illuminating material from literature, art, philosophy, psychology, pop culture, and more. Benjamin pays particular attention to the relationship between women and sleep—Penelope up all night, unraveling her day's weaving for Odysseus; the Pre–Raphaelite artists' depictions of deeply sleeping women; and the worries that keep contemporary females awake. Insomnia is an intense, lyrical, witty, and humane exploration of a state we too often consider only superficially. "This is the song of insomnia, and I shall sing it," Marina Benjamin declares.
Praise For Insomnia…
Praise for Insomnia

Named a Best Book of the Year by BuzzFeed
An American Booksellers Association Indie Next Pick

"A short, lucid book about long white nights . . . [Benjamin] writes feelingly about the frustrations of being awake when you don't want to be . . . Her moans about her futile thought–loops alternate with flattering descriptions of her radiant nocturnal consciousness." —The New Yorker

"Velvety ruminations on night wakefulness . . . Benjamin's mind works like a wide–roving trawler that rakes an area repeatedly before moving on to adjacent territory . . . Insomnia turns out to be somewhat of a celebration of sleeplessness as well as a lament . . . and is filled with memorable images." —Heller McAlpin, NPR

"[A] slim, thoughtful book." —Ron Charles, The Washington Post

"Elegant, provocative . . . In Benjamin's writing, it becomes clear that the mysteriousness of the night, its blurred boundaries, its endlessly subtle tonal variations, is a precious space, particularly for those of us who do not naturally fare well in the harsh light of the sun. Better, then, to stay in the gentle glow of the moon, beneath the hot, infinite sparks of the stars above, and set our own schedules, make up our own rules, in accordance with who we want to be, not who we're told we must become." —Kristin Iversen, NYLON

"A svelte work of nonfiction that bridges memoir and the history of sleeplessness . . . Benjamin has written three other memoirs and she knows her way around the form, drawing out personal details and reminiscences and connecting them to a larger history of sleep and its discontents . . . She pings between mythological stories of sleepers and gods of sleep, dreamers and insomniacs, as well as cultural and literary approaches to sleeplessness. Like a night–ride through an insomniac's mind, Benjamin's book moves from thought to thought, driven by tangential linkages rather than logical progression . . . But the writing itself is so luminous that you hardly notice . . . It's writing like this, effortless as a sleeping dog, that carries you through Insomnia, the kind of book for those late hours of the night, keeping you company when you're most alone." —Colin Dickey, Los Angeles Times

"Benjamin's impassioned and elegant memoir is not just an intimate account of a disorder for which there is still no straightforward cure, but a defiant celebration of its paradoxical potential . . . Her key idea, approached via detours into history, philosophy and art, is that the inability to sleep is not just a symptom of an underlying pathology but an existential experience that can give us fresh insights into the nature of creativity and love." —Elizabeth Lowry, The Guardian

"An insomniac's ideal sleep aid—and that's a compliment. With her collage of ruminations about sleeplessness, [Benjamin] promises no real cure . . . What she offers instead is a rare kind of companionship . . . Her slim book is what the doctor ordered." —The Atlantic

"A short book of short meditations and explorations of sleeplessness and its discontents from a well–read writer. Buy two and put one in the guest room!" —Milwaukee Journal Sentinel

"Benjamin's prose is poetic and punchy . . . Insomnia offers a new way of looking at an old disorder." —Winnipeg Free Press

"Poetic and insightful, profound and magical, personal and universal, Benjamin nails insomnia in short paragraphs and extended passages . . . This memoir is not an organized narrative that leads to a cure, but rather an honest voice of one who suffers in the dark without sleep." —Heidi Simmons, Coachella Valley Weekly

"Benjamin's technique has a nocturnal cast, her night thoughts following their own strange logic, bleeding into one another . . . As Benjamin depicts the experience, the insomniac exists in a liminal state, poised between sleep and waking, light and darkness. She vividly evokes this neither–here–nor–there situation, with its heightened sensitivity to ambient light and sounds . . . If we can learn to be sensible to these liminal states in which thought refuses to follow a linear path, Benjamin suggests, then we can free ourselves from entrenched ways of thinking and open up new possibilities . . . Benjamin boldly points the way toward new and productive ways of living." —Andrew Schenker, Los Angeles Review of Books

"Insomnia reads like insomnia feels—fluid prose, streaming through Marina Benjamin's experience of sleeplessness, weaving in insights from literature, art, philosophy, and psychology. It's an ethereal but profound exploration of our relationship with sleep and darkness, and especially of women's relationship to sleep—why we're drawn to cultural depictions of women in deep sleep, what keeps them awake. Benjamin's connections are lucid and illuminating, and joining her through them feels like sharing a quiet late–night conversation." —Arianna Rebolini, BuzzFeed

"In sensitive, incantatory prose, Benjamin recounts her lifelong experience with sleeplessness, a cruel effect of the mind's inability to let the body go . . . Flip to any page of Insomnia. Slip into the current of Benjamin's wandering thoughts. Stay with her through the night. The memoir, structured like a lengthy, meandering essay, is full of pleasing detours . . . We stay by Benjamin's side to attend to our own mysteries, our own glimmering darkness." ––Rajat Singh, The Rumpus

"Benjamin's late–night ruminations on the power of sleeplessness, and specifically the relationship women have long had with sleep, are thoughtful and poetic. Benjamin's words will both captivate you and, somehow, allow you to rest easier." —Samantha Zabell, Apartment Therapy

"Marina Benjamin's slim book exploring insomnia offers an odd yet captivating journey through the nature of sleep." —Frannie Jackson, Paste

"Intense, vagrant, and personal . . . Richly stocked with literary references to lack of sleep, its pains and occasional pleasures . . . A book that attempts stylistically to sound like its subject: fragmented, digressive, at times delirious . . . Benjamin gives us the essayistic equivalent of a dead–of–night drift into wakefulness and then beyond into worry, fantasy, and invention. Insomnia ought to be read not as self–help, but as an addition to that venerable philosophic genre, the consolation. It might keep you awake, but in solacing and inquiring company." —Brian Dillon, 4Columns

"Marina Benjamin confronts insomnia, a sleep disorder that is on the rise. Through her personal experience with insomnia, Benjamin details that it can be used for good, as a a vessel for creativity. That when we can't sleep we are granted valuable insight 'into the unconscious mind.' Interestingly, Insomnia brings attention to the relationship between women and sleep, from Penelope weaving for Odysseus to the stresses that keep modern women awake each night." —Women.com

"Wakefulness, insomnia's antithesis, aptly describes the book's gestures and rhythm. Brief paragraphs, separated by pauses, act as voltages of insight between blank spaces. Throughout the narrative, Benjamin interrogates the ancient mystery behind insomnia, reserving judgment about the possibilities of renewal from what might be considered a curse . . . Insomnia is ultimately a book about the contradictions that permeate our natures. Having enjoyed it and been edified, I will look differently upon a sleepless night and will invite the light that stubbornly refuses to diminish while illuminating the darkness." —Judith Harris, On the Seawall

"Marina Benjamin's Insomnia is more than a memoir; the book haunts with its journeys into what unsettles us in the night." — Largehearted Boy

"A capacious, lyrical meditation on her elusive quest for sleep . . . A vivid portrayal of wakefulness that will strike a chord of recognition in many readers." —Kirkus Reviews

"A beautiful blend of material, written in short sections that are artfully woven together. Fellow insomniacs will be particularly drawn to this book, but really it's a book for anyone who likes beautiful, idea–driven prose. Benjamin digs deeply into the subject and asks questions and draws conclusions that feel fresh and vital." —Rebecca Hussey, Book Riot, 1 of 5 Small–Press Books You Won't Want to Miss

"Every insomniac knows how sleeplessness warps and deforms reality. Marina Benjamin anatomizes its endless nights and red–eyed mornings, finding a sublime language for this strange state of lack. Her writing is often reminiscent of Anne Carson: beautiful, jagged, and precise." —Olivia Laing, author of The Lonely City

"An exquisite meditation on time, the dark hours, and the complexities of longtime love, Insomnia is a poetic journey into the wide–awake, generous, exciting mind of Marina Benjamin. I couldn't put it down, and my own inner world is richer for it." —Dani Shapiro, author of Hourglass

"A sublime view of the treasures and torments to be found in wakefulness. Entertaining and existential, the brightest star in this erudite, nocturnal reverie in search of lost sleep is the beauty of the writing itself." —Deborah Levy, author of Hot Milk

"Benjamin writes beautifully. This is a graceful rumination on the 'wicked kind of trespass' that is insomnia, a work cogent and allusive as a lucid dream, a palimpsest of insights to dip into, day or night." —Anna Funder, author of Stasiland
Catapult, 9781948226059, 144pp.
Publication Date: November 13, 2018
About the Author
Marina Benjamin is the author of three previous memoirs: Rocket Dreams, short–listed for the Eugene Emme Award; Last Days in Babylon, long–listed for the Wingate Prize; and The Middlepause, finalist for the Arts Foundation's Creative Nonfiction Award. She is a senior editor at the digital magazine Aeon.
or
Not Currently Available for Direct Purchase