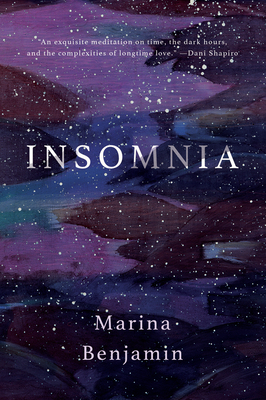 Insomnia (Hardcover)
Catapult, 9781948226059, 144pp.
Publication Date: November 13, 2018
* Individual store prices may vary.
Description
"An exquisite meditation on time, the dark hours, and the complexities of longtime love, Insomnia is a poetic journey into the wide-awake, generous, exciting mind of Marina Benjamin. I couldn't put it down, and my own inner world is richer for it." --Dani Shapiro, author of Hourglass
"Every insomniac knows how sleeplessness warps and deforms reality. Marina Benjamin anatomizes its endless nights and red-eyed mornings, finding a sublime language for this strange state of lack. Her writing is often reminiscent of Anne Carson: beautiful, jagged, and precise." --Olivia Laing, author of The Lonely City
Insomnia is on the rise. More than a third of all adults report experiencing it, with the figure climbing steeply among those over sixty-five. Marina Benjamin takes on her personal experience of the condition--her struggles with it, her insomniac highs, and her dawning awareness that states of sleeplessness grant us valuable insights into the workings of our unconscious minds. Although insomnia is rarely entirely welcome, Benjamin treats it less as an affliction than as an encounter that she engages with and plumbs. She adds new dimensions to both our understanding of sleep (and going without it) and of night, of how we perceive darkness.
Along the way, Insomnia trips through illuminating material from literature, art, philosophy, psychology, pop culture, and more. Benjamin pays particular attention to the relationship between women and sleep--Penelope up all night, unraveling her day's weaving for Odysseus; the Pre-Raphaelite artists' depictions of deeply sleeping women; and the worries that keep contemporary females awake.
Insomnia is an intense, lyrical, witty, and humane exploration of a state we too often consider only superficially. "This is the song of insomnia, and I shall sing it," Marina Benjamin declares.
About the Author
Marina Benjamin is the author of three previous memoirs: Rocket Dreams, short-listed for the Eugene Emme Award; Last Days in Babylon, long-listed for the Wingate Prize; and The Middlepause, finalist for the Arts Foundation's Creative Nonfiction Award. She is a senior editor at the digital magazine Aeon.
Praise For Insomnia…
Praise for Insomnia
"Every insomniac knows how sleeplessness warps and deforms reality. Marina Benjamin anatomizes its endless nights and red-eyed mornings, finding a sublime language for this strange state of lack. Her writing is often reminiscent of Anne Carson: beautiful, jagged, and precise." —Olivia Laing, author of The Lonely City
"An exquisite meditation on time, the dark hours, and the complexities of longtime love, Insomnia is a poetic journey into the wide-awake, generous, exciting mind of Marina Benjamin. I couldn't put it down, and my own inner world is richer for it." —Dani Shapiro, author of Hourglass
Praise for The Middlepause (2017)
"In The Middlepause Benjamin deftly and brilliantly examines the losses and unexpected gains she experienced in menopause. . . . Menopause is a mind and body shift as monumental and universal as puberty, yet far less often discussed, especially in public, which is what makes Benjamin's work here so urgently necessary." —Kate Tuttle, The Los Angeles Times
"Eloquent and intelligent. . . . A measured and beautifully written critique of menopause and middle age that pre-, mid-, and postmenopausal women will find eminently relatable, and that those who love and care for them will likewise appreciate." —Publishers Weekly (starred review)
"In [her] piercingly intelligent and bracingly honest memoir, The Middlepause: On Life After Youth, Marina Benjamin, on the brink of fifty, resolves not to run but to take stock and wrestle with the meaning of aging instead. . . .The Middlepause feels wholly original." —Barbara Spindel, Barnes and Noble Review
"Women do a lot of things to mark turning fifty. Go to a resort! Have a bang-up party! Far, far better: read The Middlepause." —Jill Lepore, staff writer for The New Yorker and author of The Secret History of Wonder Woman
"We are not supposed to beguile, we the middle-aged women. But with The Middlepause, Marina Benjamin does that: she beguiles and entrances with a lyrical, thoughtful, erudite, and always lucid exploration of the middle years of her life, and what they mean to her, and what middle-aged women mean to society." —Rose George, author of Ninety Percent of Everything and The Big Necessity
"Intimate, open-hearted, clever and kind, this book is a companion which, by naming the shadow fears, finds the truer gold." —Jay Griffiths, author of The Wild: An Elemental Journey
"While The Middlepause is indeed intellectual and cultivated, Benjamin also speaks directly to a sense of communal, lived experience. . . . She writes so perceptively about the familiar that she effortlessly freshens and elevates it." —Isabel Berick, Financial Times
"I loved this candid and beautifully written 'wrinkles and all' meditation on the middle years." —Caroline Sanderson, The Bookseller, "Editor's Choice"
"For emotional honesty, look to a midlife memoir from Marina Benjamin." —Tom Gatti, The New Statesman, "The books to look out for in 2016"
"Lucid and sophisticated. . . . The Middlepause is a restrained but wonderful guide to the convulsive changes of 50 and over. . . . This is a book that yields valuable insights on almost every page." —Melissa Benn, The Guardian
"This book does not contain advice on diet, yoga, emollients or wardrobe makeovers. Marina Benjamin instead pursues an intellectual perspective of her journey to 50. . . . As a means of inducting younger women into the business of getting older, this is a welcome narrative." —Deirdre Conroy, Irish Independent
"Benjamin has written an addictive antidote to saccharine wellness tomes. Beautifully composed and intensely sympathetic, The Middlepause is wry, personal and intimate, while still being something of a road map for others. . . . It all adds up to a pleasing and addictive read which is really about facing our own mortality, in the company of a spirited, clever and well-read friend who is never going to give up on herself—and is damned if you'll give up either." —Viv Groskop, The Telegraph (UK)
Praise for Last Days in Babylon (2006)
"A fascinating glimpse of old-world Baghdad and the rich life the city's Jewish community once enjoyed there . . . . Highly evocative." —The Christian Science Monitor
"Last Days in Babylon documents the astonishing swiftness with which the Iraqi Jewish community was shattered in the years after WWI, culminating in a mass exodus . . . . Benjamin's evocation of the routines and rituals of Iraqi Jewish life … makes her account of post-WWI turmoil all the more convulsing." —The Boston Globe
"Last Days in Babylon is a rich and moving family memoir, but it's much more too: a fascinating and impassioned look at an unknown world." —The Evening Standard (London)
"An impassioned account of a multi-ethnic society . . . . An incisive exposé of the 20th-century political vicissitudes which transformed the Middle East from a Pandora's box kept somewhat shut by the Ottomans to the present amphitheatre of unrelenting religious, nationalistic and xenophobic conflicts . . . . This is a history unknown even to most Jews. Benjamin narrates it fluently and passionately." —The Independent (London)
Praise for Rocket Dreams (2003)
"Rocket Dreams is [Marina Benjamin's] quicksilver tour, teasing out the threads of imagination that once streamed into space, around a world that has shrunk but has grown complicated. Agile insights and melodic phrasing make the trip a lot of fun." —The Evening Standard (London)
"What is clever about Benjamin's book, and sets it apart from the usual threnody to the men with the 'right stuff,' is that it identifies the crossover points between cyberspace and outer space. . . . This book is an eloquent response to a historical failure." —Pat Kane, The Independent (London)
Praise for Living at the End of the World (1999)
"Benjamin has written an elegant intellectual survey of the millennium." —Elaine Showalter
"Erudite and perceptive … the mass of data she assembles is impressive, as is the gentle sanity of her conclusions." —Evening Standard
"Fascinating." —Independent on Sunday