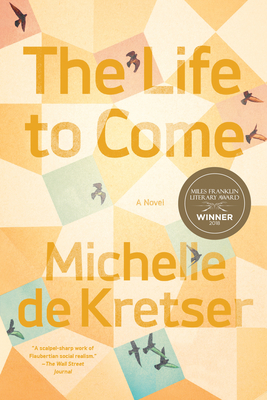 The Life to Come (Paperback)
Catapult, 9781948226158, 368pp.
Publication Date: March 12, 2019
Other Editions of This Title:
Hardcover (3/13/2018)
* Individual store prices may vary.
Description
Winner of the Miles Franklin Literary Award
Shortlisted for the Stella Prize
Longlisted for the International Dublin Literary Award "For a novel concerned with dislocation, there's a lot of grounding humor in The Life to Come. Most of it comes at the expense of Pippa and her ilk, but de Kretser's observations are so spot on, you'll forgive her even as you cringe."
--Amelia Lester,
New York Times Book Review
Set in Australia, France, and Sri Lanka, The Life to Come is about the stories we tell and don't tell ourselves as individuals, as societies, and as nations. Driven by a vivid cast of characters, it explores necessary emigration, the art of fiction, and ethnic and class conflict.
Pippa is a writer who longs for success and eventually comes to fear that she "missed everything important." Celeste tries to convince herself that her feelings for her married lover are reciprocated. Ash makes strategic use of his childhood in Sri Lanka, but blots out the memory of a tragedy from that time. Sri Lankan Christabel endures her dull job and envisions a brighter future that "rose, glittered, and sank back," while she neglects the love close at hand.
The stand-alone yet connected worlds of The Life to Come offer meditations on intimacy, loneliness, and our flawed perception of reality. Enormously moving, gorgeously observant of physical detail, and often very funny, this new novel by Michelle de Kretser reveals how the shadows cast by both the past and the future can transform and distort the present. It is teeming with life and earned wisdom--exhilaratingly contemporary, with the feel of a classic.
About the Author
Michelle de Kretser was born in Colombo, Sri Lanka. Her family emigrated to Australia when she was a teenager, and she was educated in Melbourne and Paris. She is the author of four previous novels, including the Miles Franklin Award-winning Questions of Travel and the Man Booker Prize long-listed The Lost Dog, and a novella, Springtime. De Kretser now lives in Sydney with her partner, the poet and translator Chris Andrews. She is an Honorary Associate of the English Department at the University of Sydney.