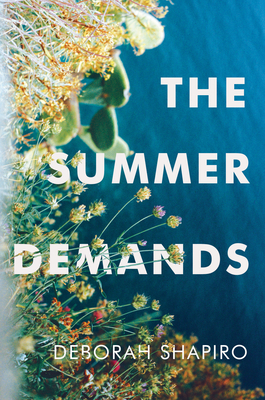 The Summer Demands
Hardcover

* Individual store prices may vary.
Other Editions of This Title:
Digital Audiobook (6/3/2019)
Paperback (6/16/2020)
Compact Disc (6/4/2019)
MP3 CD (6/4/2019)
Description
Taking place over a single summer at an abandoned Massachusetts summer camp, this "sun–saturated tale of love and longing" explores the sting of seduction and how desire and ambition can shift through time and experience (Chicago Tribune).

After Emily inherits an abandoned summer camp in Massachusetts just before her fortieth birthday, she and her husband David move onto the property with grand plans to fix it up. Instead, Emily finds herself drifting, grieving her recent miscarriage and her own perceived lack of ambition, while David works in the city. Until the day Emily discovers that their new property includes an unexpected guest. Living undetected in one of the cabins is a magnetic twenty–two–year–old named Stella. Their immediate and intense connection expands and contracts over the course of an single summer, calling all of Emily's relationships, including her marriage, into closer scrutiny.

As the two women begin spending time together―talking and drinking, swimming in the lake, watching seductive French films through long afternoons―Emily finds herself playing at performing various roles relative to Stella: friend, mother, lover. Each encounter they share promises to bring Emily a little closer to an understanding of her own identity, but it also puts her marriage and future at risk. How much does she really know about Stella? Why is Stella here, and what does she want, and what might she take with her, if and when she leaves?

Named one of the best books of the summer by O, The Oprah Magazine, this "sun–saturated tale of love and longing" is a "smart, funny, nuanced and seductive" read (Chicago Tribune). Startling yet dreamlike, The Summer Demands marks Deborah Shapiro as a master at capturing complex relationships and the electricity of what passes unsaid between people.
Praise For The Summer Demands…
Praise for The Summer Demands
A Midwest Independent Booksellers Association Midwest Connections Pick

"Shapiro's second novel is a blistering profusion of desire and longing, revealing the undercurrents between our younger and older selves." —O, The Oprah Magazine

"Come for the plot, but honestly, stay for the gorgeous writing." —Mehera Bonner, Cosmopolitan

"'Summer, green and still and slightly grainy.' Those seven words instantly transport you into the haze of this book, in which Emily feels like the summer of her life is disappearing, like her days of fertility and growth are over . . . It's in this tenuous state that she moves with her husband to an abandoned summer camp, where she meets 22–year–old Stella . . . The two have a magnetic, sparking connection, which makes clear the ways in which the intimate relationships between women can bring up palpable feelings of desire, envy, and liberation." —Kristin Iverson, NYLON

"Smart, funny, nuanced and seductive . . . A gorgeously written story of late youth and early middle age, the novel makes the delicate argument that maybe a person can come of age at any age—that maybe everyone is always coming of age all the time." —Kathleen Rooney, Chicago Tribune

"A sun–saturated tale of love and longing . . . Chicago–based author Shapiro has a knack for crafting deeply human characters and portraying complex relationships between women." —Chicago Tribune

"This is a slow and sultry novel that feels like summer itself . . . Shapiro creates a cinematic portrait of desire and ambition." —Sarah Cassavant, Subtext Books, Star–Tribune (Minneapolis)

"Drawing from Emily's memory, her grief, her attraction to Stella, and her confusion about her marriage, Shapiro shapes a mysterious and evocative novel." —Jane Ciabattari, BBC Culture

"Does not disappoint . . . With beautiful prose and sultry passages that see the passing of summer days on a secluded lake and in front of a bonfire, Shapiro has woven a tale of nostalgia and longing complete with deep introspection and desire for both the past and the future." —Sara Cutaia, Chicago Review of Books

"The point of summer is to be free of demands, but in Shapiro's engrossing, seductive sophomore novel, the emotional demands prove to have a ferocious power . . . Shapiro keys into the vulnerabilities of the older woman and in the dynamic between the pair, and in this overgrown, wild landscape, she has written a suspenseful, provocative novel." —The National Book Review

"Shapiro's The Summer Demands is sultry, shrewd, unnerving, and simply magnetic. I was hooked from beginning to end." —Rebecca Kauffman, author of The Gunners

"Emily is a sympathetic protagonist, a woman who is beginning to feel doors closing in her life even though she doesn't feel like an 'adult.' Stella is no less captivating, embodying youthful freedom and vulnerability. Together, they make for an electrifying duo, and the strange and blurred relationship that emerges between them is charged to the point of creating an edge–of–your–seat tension . . . The emotional connection between the two women is captivating and complex." —Kirkus Reviews
Catapult, 9781948226301, 224pp.
Publication Date: June 4, 2019
About the Author
DEBORAH SHAPIRO was born and raised outside of Boston, Massachusetts. Her writing has appeared in The New York Times Book Review, Los Angeles Review of Books, Sight Unseen, Tin House, and elsewhere. Her first novel, The Sun in Your Eyes, was selected as an Editors' Choice by The New York Times Book Review, as well as one of the season's best reads by Harper's Bazaar, The Wall Street Journal Magazine, Chicago Tribune, and Vulture, among other publications. She lives with her husband and son in Chicago.
or
Not Currently Available for Direct Purchase