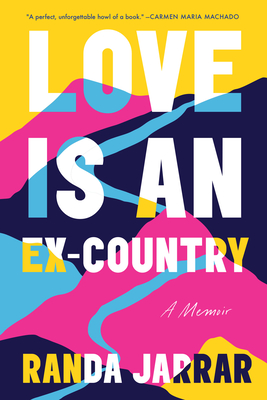 Love Is an Ex-Country
Hardcover

* Individual store prices may vary.
Description
Queer. Muslim. Arab American. A proudly Fat woman. Randa Jarrar is all of these things. In this "viscerally elegant" and "intimately edgy" memoir of a cross-country road trip, she explores how to claim joy in an unraveling and hostile America (Kirkus Reviews).

Randa Jarrar is a fearless voice of dissent who has been called "politically incorrect" (Michelle Goldberg, The New York Times). As an American raised for a time in Egypt, and finding herself captivated by the story of a celebrated Egyptian belly dancer's journey across the United States in the 1940s, she sets off from her home in California to her parents' in Connecticut.

Coloring this road trip are journeys abroad and recollections of a life lived with daring. Reclaiming her autonomy after a life of survival--domestic assault as a child, and later, as a wife; threats and doxxing after her viral tweet about Barbara Bush--Jarrar offers a bold look at domestic violence, single motherhood, and sexuality through the lens of the punished-yet-triumphant body. On the way, she schools a rest-stop racist, destroys Confederate flags in the desert, and visits the Chicago neighborhood where her immigrant parents first lived.

Hailed as "one of the finest writers of her generation" (Laila Lalami), Jarrar delivers a euphoric and critical, funny and profound memoir that will speak to anyone who has felt erased, asserting: I am here. I am joyful.
Praise For Love Is an Ex-Country…
An O, The Oprah Magazine LGBTQ Book That Will Change the Literary Landscape Next Year 
A Literary Hub Most Anticipated Book of the Year
One of The AU Review's Most Anticipated Books of the Year
A Write or Die Tribe Most Anticipated Book of the Year
A Rumpus Most Anticipated Book of Next Year

"Funny, fierce, and full of joy and pain, Randa Jarrar's memoir chronicles her 2016 road trip across America, as she drives from her home in California to her parents' home in Connecticut. Her encounters along the way—from Tinder hookups to encounters with racist truck-drivers—serve as catalysts for Jarrar to explore everything from her identity as a queer Palestinian-American to her experiences with domestic violence and bigotry. There is catharsis in reading Jarrar's words, they feel alternately like howls and whispers, an impassioned, necessary response to what it means to live in America today." ––Kristin Iversen, Refinery29, One of the Best New Books of the Year

"Egyptian, Palestinian, and American writer Randa Jarrar's memoir is framed through the story of a road trip she took ahead of the 2016 election, inspired by Egyptian dancer and actress Tahia Carioca. Hers is at once an American story and the story of the Palestinian diaspora. Jarrar writes about heavy topics—domestic assault, detainment in Israel, doxxing, and more—yet her writing remains infused with joy and survival." ––Alma, A Favorite Book for Winter

"Jarrar's story is nothing short of inspirational. She proves that in spite of life's challenges, she's a force to be reckoned with. Though life has thrown many obstacles her way, she's always managed to overcome them, has always come out dancing to the beat of her own drum." —Maria Chance, Paperback Paris

"Compelling . . . viscerally elegant . . . Jarrar makes a significant statement about self-acceptance while celebrating the complexity of intersecting identities. An intimately edgy text." —Kirkus Reviews

"Cutting and triumphant . . . Jarrar [is a] fierce, merciless thinker and writer . . . The memoir itself traverses the globe from Texas to Connecticut to the Middle East to Berlin, with Jarrar's grit and intelligence leaping off every page. The entire book is a symphony for the pushed-out and the unheard." —Booklist

"If you have ever felt lonely or horny or angry or magnificent; if you have had no country or too many countries or you have left your country behind; if you have spoken truth to power or trusted the wrong people and suffered the consequences; if you have ever gotten in a car and driven across the landscape because you had to: this memoir is for you. What a boon it is, a perfect, unforgettable howl of a book."--Carmen Maria Machado, author of In the Dream House

"Randa Jarrar is the Arab femme daddy of my dreams and her voice is nothing short of ROYAL. Imagine Hatshepsut as the daughter of immigrants, motoring across the United States of America, glorying in the art of the road trip: that's the type of literary, diasporic, and necessary realness Randa serves."--Myriam Gurba, author of Mean

"There wasn't a page in this memoir that didn't make me want to jump up and cheer, murmur in awe, scream with laughter, or weep. Randa Jarrar is a top-notch writer, a tender warrior, a truth teller of sensuous and magnificent power; she is exactly the kind of role model we need right now." --Melissa Febos, author of Abandon Me
Catapult, 9781948226585, 240pp.
Publication Date: February 2, 2021
About the Author
Randa Jarrar is the author of the novel A Map of Home and the collection of stories Him, Me, Muhammad Ali. Her work has appeared in The New York Times Magazine, Salon, Bitch, BuzzFeed, and elsewhere. She is a recipient of a Creative Capital Award and an American Book Award, as well as awards and fellowships from the Civitella Ranieri Foundation, the Lannan Foundation, Hedgebrook, PEN, and others. A professor of creative writing and a performer, Jarrar lives in Los Angeles.