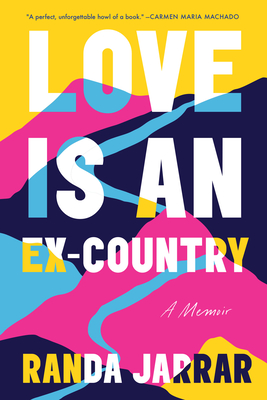 Love Is an Ex-Country
Hardcover

* Individual store prices may vary.
Other Editions of This Title:
Digital Audiobook (2/1/2021)
February 2021 Indie Next List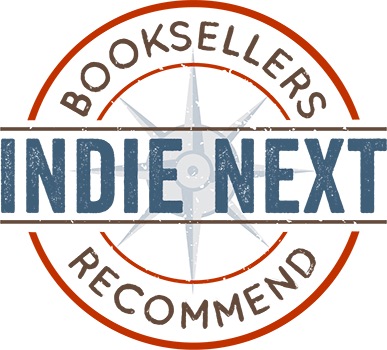 "Randa Jarrar's intimate memoir is nothing short of monumental. Intelligent, tender, and lacerating in equal measure,
Love Is an Ex-Country
takes readers on a journey across the U.S., probing what it means to live fully in a hostile environment and contemplate survival in the face of erasure. Jarrar navigates the profound with a light touch and infuses every page with humor, insight, and defiance. Above all, this is a story of being: being corporeal, being of many places and no place, and being joyful — triumphantly."
— Nika Jonas, Books Are Magic, Brooklyn, NY
View the List
Description
Queer. Muslim. Arab American. A proudly Fat femme. Randa Jarrar is all of these things. In this "exuberant, defiant and introspective" memoir of a cross-country road trip, she explores how to claim joy in an unraveling and hostile America (The New York Times Book Review).


Randa Jarrar is a fearless voice of dissent who has been called "politically incorrect" (Michelle Goldberg, The New York Times). As an American raised for a time in Egypt, and finding herself captivated by the story of a celebrated Egyptian belly dancer's journey across the United States in the 1940s, she sets off from her home in California to her parents' in Connecticut.

Coloring this road trip are journeys abroad and recollections of a life lived with daring. Reclaiming her autonomy after a life of survival--domestic assault as a child, and later, as a wife; threats and doxxing after her viral tweet about Barbara Bush--Jarrar offers a bold look at domestic violence, single motherhood, and sexuality through the lens of the punished-yet-triumphant body. On the way, she schools a rest-stop racist, destroys Confederate flags in the desert, and visits the Chicago neighborhood where her immigrant parents first lived.

Hailed as "one of the finest writers of her generation" (Laila Lalami), Jarrar delivers a euphoric and critical, funny and profound memoir that will speak to anyone who has felt erased, asserting: I am here. I am joyful.
Praise For Love Is an Ex-Country…
An O, The Oprah Magazine LGBTQ Book That Will Change the Literary Landscape Next Year 
A Literary Hub Most Anticipated Book of the Year
A Library Journal Title to Watch

"Jarrar is a propulsive writer and the pieces amassed here are chaotic and exuberant, defiant and introspective . . . Some essays retell events we've already read as if for the first time; some end with disorienting abruptness . . . Together, their effect is impressionistic but forceful, retracing the biography of a body whose identity and dignity have often been contested: Palestinian, fat, desirous and desired, once a site of violence and grief, now a site of pleasure and pride." —Jordan Kisner, The New York Times Book Review

"You haven't read this American road trip story before. Written during the Trump years, this memoir by Randa Jarrar, a queer Muslim Arab American woman, tackles systemic racism, domestic violence, sexuality, trauma, body image and more as it crisscrosses the country with plenty of humor and heart to break up the journey." —Kathleen Rellihan, Newsweek

"Through the lens of a transformative cross-country road trip from California to Connecticut, Jarrar recounts her lifelong hunger for liberation from the forces of domestic violence, doxxing, and systemic racism . . . This visceral, unforgettable memoir is Jarrar's barbaric yawp, asserting her triumphant choice to live joyfully in a hostile world." —Adrienne Westenfeld, Esquire, A Best Book of the Year

"Hailed as a profound memoir for all ages, genders, and backgrounds, Jarrar's words will speak to anyone who has felt erased, providing a sense of confidence to one day say: I am here. I am joyful." —Breanna Wilson, Forbes

"Step aside, Jack Kerouac: When it comes to great American road trip stories, we're letting fat, queer, Muslim-Arab single mothers drive the car . . . Love Is an Ex-Country follows the author on her 2016 journey from California to her parents' house in Connecticut, complete with pit stops to destroy wayward Confederate flags and reflect on traumatic childhood memories. The result is at once a scathing critique of American culture and a joyful celebration of life." —Keely Weiss, Harper's Bazaar, A Best LGBT Book of the Year 

"Love Is an Ex-Country is not a road trip memoir so much as a profound meditation on race, borders, abuse, and above all, bodies. Everything is seen, felt, experienced through the lens of the body, and the reader will feel it in theirs, too." ––Sarah Neilson, Shondaland

"Jarrar, a single mother who was born in America but raised in Egypt for a spell, brings a fresh, critical perspective to the road narrative genre, which is largely dominated by white men. In the backyard of America, the proudly fat, queer, Muslim and Arab American protagonist dredges up personal demons she triumphed over, and unaired grievances from America's checkered past. —Connor Godwin, The Seattle Times

"Funny, fierce, and full of joy and pain, Randa Jarrar's memoir chronicles her 2016 road trip across America, as she drives from her home in California to her parents' home in Connecticut. Her encounters along the way—from Tinder hookups to encounters with racist truck-drivers—serve as catalysts for Jarrar to explore everything from her identity as a queer Palestinian-American to her experiences with domestic violence and bigotry. There is catharsis in reading Jarrar's words, they feel alternately like howls and whispers, an impassioned, necessary response to what it means to live in America today." ––Kristin Iversen, Refinery29, One of the Best New Books of the Year

"Jarrar's story is most strikingly about the liberating power of joy and emerging triumphant after so much grief—including the Palestinian wound of displacement she carries in her body. She then blazes forth to make her Palestinian Egyptian body at home in a land that tries to marginalize and silence her at every turn. Every page is burnished with a fearless love that readers can't help but feel in their bones, written as these essays are from the depths of her 'happy fat Arab heart.'" —Madhuri Sastry, Bitch

"Egyptian, Palestinian, and American writer Randa Jarrar's memoir is framed through the story of a road trip she took ahead of the 2016 election, inspired by Egyptian dancer and actress Tahia Carioca. Hers is at once an American story and the story of the Palestinian diaspora. Jarrar writes about heavy topics—domestic assault, detainment in Israel, doxxing, and more—yet her writing remains infused with joy and survival." ––Alma, A Favorite Book for Winter

"Jarrar [positions] herself both as a critic and as a participant in the conversation about which stories, and whose, receive exposure. It's a vivid and necessary point of view." ––David L. Ulin, Alta

"[Through] her intimate look at how she's moved past abuse, Jarrar stakes out a radical approach to self and citizenship, one that hinges not on someone else's approving judgment but on her own self-love . . . Reimagining citizenship as beyond the reach of hostile judges isn't a new idea. Indigenous and Black writers, especially, have been doing it for centuries. But Jarrar takes this kind of reimagining to new places by keenly chronicling the everyday ways that the unhealed wounds of abuse can bind even her most mundane bodily movements as an Egyptian, Palestinian, queer, fat, femme, Muslim, Arab American." — Leila Mansouri, The Believer
Catapult, 9781948226585, 240pp.
Publication Date: February 2, 2021
About the Author
Randa Jarrar is the author of the novel A Map of Home and the collection of stories Him, Me, Muhammad Ali. Her work has appeared in The New York Times Magazine, Salon, Bitch, BuzzFeed, and elsewhere. She is a recipient of a Creative Capital Award and an American Book Award, as well as awards and fellowships from the Civitella Ranieri Foundation, the Lannan Foundation, Hedgebrook, PEN, and others. A professor of creative writing and a performer, Jarrar lives in Los Angeles.