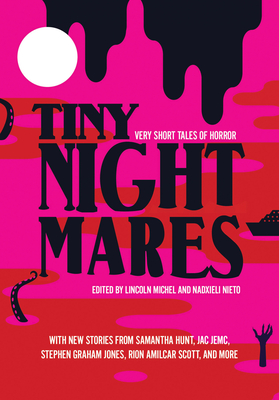 Tiny Nightmares
Very Short Stories of Horror
Paperback

* Individual store prices may vary.
Description
]A collection of horror–inspired flash fiction, featuring over 40 new stories from literary, horror, and emerging writers—edited by Lincoln Michel and Nadxieli Nieto, the twisted minds behind Tiny Crimes: Very Short Tales of Mystery and Murder.

In this playful, inventive collection, leading literary and horror writers spin chilling tales in only a few pages. Each slim, fast–moving story brings to life the kind of monsters readers love to fear, from brokenhearted vampires to Uber–taking serial killers and mind–reading witches.

But what also makes Tiny Nightmares so bloodcurdling—and unforgettable—are the real–world horrors that writers such as Samantha Hunt, Brian Evenson, Jac Jemc, Stephen Graham Jones, Lilliam Rivera, Kevin Brockmeier, and Rion Amilcar Scott weave into their fictions, exploring how global warming, racism, social media addiction, and homelessness are just as frightening as, say, a vampire's fangs sinking into your neck.

Our advice? Read with the hall light on and the bedroom door open just a crack.

Featuring new stories from Samantha Hunt, Jac Jemc, Stephen Graham Jones, Rion Amilcar Scott, and more!
Praise For Tiny Nightmares: Very Short Stories of Horror…
A The Millions Most Anticipated Book of the Month

"An anthology of horror fiction from some of today's most innovative names in fiction. The stories are uniformly short, which means you can read the book in one spooky sitting, or spread the scares out." —O, The Oprah Magazine

"These tales might be small, but they have lasting power." —Jordan Snowden, The Seattle Times

"You'll be impressed how quickly you can be unsettled." —John Warner, Chicago Tribune

"Tiny Nightmares is absolutely perfect if you have a hard time focusing on anything right now and if you love to be scared . . . It's bone–chilling, timely, thought–provoking, and a lot of fun." —Arianna Rebolini, BuzzFeed

"A collection of bite–sized horror stories from a sprawling cast of new and veteran writers. In the book, no monster is too outlandish or too real––there is horror in vampires who mend their own broken hearts, just as there is horror in global warming and online radicalization." —Scout Brobst, Willamette Week

"Can't commit to a full novel? These short stories are scary as hell and best of all, you can finish each one while you're actually sitting on the beach. If the summer is a little too sunny, this book is a great way to get your moodiness on." —Fatherly, Best Summer Read

"An exquisite collection of short stories perfect for spooky season . . . Whether you prefer a classic ghost story, a near–future dystopia, or a far–future tale of space horror, you'll find something to your liking here . . . An excellent treasury of short horror fiction that belongs on the shelves of every reader who enjoys a good little scare." —Doreen Sheridan, Criminal Element

"Utterly spectacular . . . How can you not be drawn into this book? . . . There are so many astonishing turns of phrases and details in these very small stories." —A. Poythress, The Rumpus

"Masterful . . . In fewer than 1,500 words, each of these vivid, visceral tales engages with horrors with striking immediacy. This carefully crafted and genuinely scary collection is sure to impress." —Publishers Weekly (starred review)

"Outstanding . . . These flash fiction stories should be read during the day lest they lead to tiny nightmares for the readers . . . Highly recommended."—Booklist (starred review)

"These are achingly brief but exquisitely crafted fragments of horror . . . The book is delightfully unpredictable . . . Fans of innovative horror films like Get Out and Us will have a blast . . . Sick and twisted and troubling: Reading it is like stumbling on an old horror movie on TV in the middle of the night." —Kirkus Reviews

"Fascinating, compelling, and entertaining horror stories told with 1,500 words or fewer that lack for nothing in the anxiety and dread department. Each tale balances word count and terror with the accuracy of a marksman, creating characters and situations that reel readers in . . . A better entry into the world of horror as it stands today would be hard to find. The short, but never sweet, tales surprise as they unsettle and terrify." —Library Journal

"Lincoln Michel and Nadxieli Nieto prepare a healthy serving of horror to inject straight into your head, heart, blims, and viscera . . . A fusillade of fear." —Eric Ponce, BookPage

"I could gorge myself all day and night on these macabre, hellish little literary bonbons—Tiny Nightmares is an absolute treat." —Carmen Maria Machado, author of Her Body and Other Parties and In the Dream House

"Like a spider on a pillow or a mass on an X–ray, the stories in this collection might be tiny, but they produce outsize fear, revulsion, and wonder. Be warned and be delighted." —Benjamin Percy, author of Suicide Woods, The Dark Net, Thrill Me, and Red Moon
Catapult, 9781948226622, 304pp.
Publication Date: October 13, 2020
About the Author
LINCOLN MICHEL is the author of Upright Beasts, a collection of genre–bending stories from Coffee House Press. His work appears in The Paris Review, The New York Times, Strange Horizons, Granta, The Guardian, the Pushcart Prize anthology, and elsewhere. With Nadxieli Nieto, he is the editor of Tiny Crimes, an anthology of flash crime fiction. He teaches fiction writing at Columbia University and Sarah Lawrence College.

NADXIELI NIETO is the editor of Tiny Crimes and Gigantic Worlds with Lincoln Michel, and Carteles Contra Una Guerra. She was formerly an editor at NOON annual and Salt Hill Journal. Her work has appeared in Buzzfeed, Vice, The New York Tyrant, and elsewhere. Her collaborative artist books may be found in the collections of the Museum of Modern Art and the Brooklyn Museum.