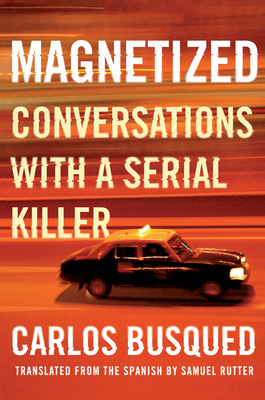 Magnetized
Conversations with a Serial Killer
Hardcover

* Individual store prices may vary.
Other Editions of This Title:
Paperback (6/1/2021)
MP3 CD (7/7/2020)
Compact Disc (11/17/2020)
Compact Disc (7/7/2020)
MP3 CD (11/17/2020)
Paperback, Spanish (4/30/2018)
Description
A "haunting and unsettling" psychological portrait for readers of true crime classics such as My Dark Places, The Stranger Beside Me, and I'll Be Gone In the Dark—one of Argentina's most innovative writers brings to life the story of a serial killer who, in 1982, murdered four taxi drivers without any apparent motive (NPR, One of the Best Books of the Year).

Over the course of one ghastly week in September 1982, the bodies of four taxi drivers were found in Buenos Aires, each murder carried out with the same cold precision. The assailant: a nineteen–year–old boy, odd and taciturn, who gave the impression of being completely sane. But the crimes themselves were not: four murders, as exact as they were senseless.

More than thirty years later, Argentine author Carlos Busqued began visiting Ricardo Melogno, the serial killer, in prison. Their conversations return to the nebulous era of the crimes and a story full of missing pieces. The result is a book at once hypnotic and unnerving, constructed from forensic documents, newspaper clippings, and interviews with Melogno himself. Without imposing judgment, Busqued allows for the killer to describe his way of retreating from the world and to explain his crimes as best he can. In his own words, Melogno recalls a visit from Pope Francis, grim depictions of daily life in prison, and childhood remembrances of an unloving mother who drove her son to Brazil to study witchcraft. As these conversations progress, the focus slowly shifts from the crimes themselves, to Melogno's mistreatment and mis–diagnosis while in prison, to his current fate: incarcerated in perpetuity despite having served his full sentence.

Using these personal interviews, alongside forensic documents and newspaper clippings, Busqued crafted Magnetized, a captivating story about one man's crimes, and a meditation on how one chooses to inhabit the world, or to become absent from it.
Praise For Magnetized: Conversations with a Serial Killer…
An InsideHook Top 10 Book of the Year

"Haunting and unsettling, Magnetized is a narrative that reminds us how little we know about the inner workings of serial killers." —NPR, One of the Best Books of the Year

"A chilling look inside a disordered mind." —People

"A chilling but fascinating portrait, and a must-read for true crime fans." —Buzzfeed

"Unsettling, penetrating . . . This is a book that will subtly haunt its readers." —CrimeReads

"In Magnetized, Argentine writer Carlos Busqued tosses aside . . . conventions to write a vivid, consuming and unnerving account of the case of Ricardo Luis Melogno, who murdered four taxi drivers in Buenos Aires in the space of a week in 1982 . . . In Busqued's writing and Samuel Rutter's outstanding translation, Melogno speaks with a clarity that makes it easy to forget he's speaking about himself." ––Michael Stein, B O D Y

"Serial killers will never not be compelling, but we risk much when we seek in them entertainment and diversion, without considering what the darkness means, or where it comes from. In Magnetized, Carlos Busqued seeks after some of that meaning in his conversations with Argentine serial killer Ricardo Melogno, who was convicted for the 1982 murders of four Buenos Aires taxi drivers, each one committed with cold precision. Busqued bolsters his conversations with forensic reports and newspaper stories, revealing a life lost before it has really begun, and the tragedy it visits upon the world." —Jonny Diamond, Literary Hub

"Busqued unnerves and entertains readers with this forensic tale synthesized from more than 90 hours of dialogue with a serial killer. The author's interviews with Ricardo Melogno detail not only his crimes, which took place during one week in 1982, but also his motivations-or lack thereof-and the killer's fascinating, disturbing psyche . . . Artfully rendered . . . The narrative is perfect for anyone fascinated by the criminal mind, the distinctions between mental illness and possession, or the concept of predestined evil. A truly visceral read that will not let readers look away." —Kirkus Reviews (starred review)

"Magnetized is a piercing and merciless book: at its center is the voice of Ricardo Melogno, a man imprisoned for murdering taxi drivers. But there is more to his words than the horror of crime: traces of a prison system incapable of dealing with mental illness, memories of a haunted childhood, and echoes of daily life in a sinister city. Carlos Busqued listens and records Melogno's story with a sangfroid as hair-raising as his novel." —Mariana Enriquez, author of Things We Lost in the Fire
Catapult, 9781948226684, 192pp.
Publication Date: June 2, 2020
About the Author
Carlos Busqued was born in Presidencia Roque Sáenz Peña, Chaco, Argentina, in 1970 and lives in Buenos Aires. His first novel, Under This Terrible Sun, was a finalist for the 2008 Herralde Prize and later adapted for film (El Otro Hermano, Adrian Caetano, 2017). Magnetized is his second book.

Samuel Rutter is a writer and translator from Melbourne, Australia. His work has appeared in Harper's Magazine, The Paris Review, and McSweeney's, and he is a regular contributor to T, the New York Times style magazine. He lives in Brooklyn.