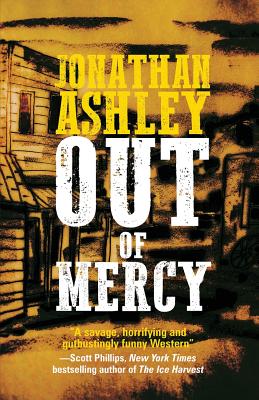 Out of Mercy
Paperback

* Individual store prices may vary.
Description
It's the fall of 1882. Kentucky, the land of dark and bloody ground as the Indians called it, has far from recovered from the Civil War. The small town of Mercy, a rest stop for the emotionally and physically disfigured drifters left over from the war, will soon pay the price of the violence inherent in American culture, and the racism still palpable throughout the hills and hollers of rural Kentucky.

The first sign of doom arrives on horseback: three outlaws wanted in Virginia and other parts for robbery and murder. A beautiful, tomboyish white young woman with blue tattoos on her face, markings from her time as a captive of Apaches; a former slave whose days of cowtowing to polite white society are over, and the most deadly and mysterious, the motley gang's leader, Tompal Banks.

But the source of Mercy's impending doom, the rioting and bloodshed that touch the lives of every resident, from the alcoholic Marshal to the haunted Mayor, will come from within the community, incited by the apocalyptic gospel spoken by the syphilitic Reverend Thurman on the Banks of the Ohio to his congregation of repressed sexual deviants and bloodthirsty war veterans.

Praise for OUT OF MERCY:

"A savage, horrifying and gut-bustingly funny Western, set in an Old West that would have made John Wayne turn and run for his life and featuring a cast of characters so richly imagined I'm afraid they'll turn up in my nightmares. I loved every word of it." --Scott Phillips, New York Times bestselling author of The Ice Harvest

"Think Elmore Leonard or Cormac McCarthy--with a dash of Nick Hornby to keep things suitably bent. But make no mistake--Ashley has a strong, savage, uncompromising voice of his own. Out of Mercy is the kind of flat-out, heart-stopping, psycho-emotional thrill ride that just might put this author on the map with the giants. Personally, I can't wait to read more of Jonathan Ashley's work--once I recover from this one." --Jerry Stahl, New York Times bestselling author of Permanent Midnight

"Hard, stark and brilliant, Out of Mercy is the best Western I've read in years." --Benjamin Whitmer, author of Cry Father

"A dark gem, a bleak tale of survival and revenge in the bloody hills of Kentucky. Vividly written, filled with compelling characters and laced with black humor, this is frontier noir at its best." --James Reasoner, author of Texas Wind
Down & Out Books, 9781948235037, 272pp.
Publication Date: July 2, 2018