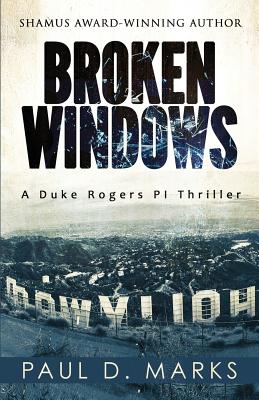 Broken Windows
Paperback

* Individual store prices may vary.
Description
While the storm rages over California's notorious anti-illegal alien Proposition 187, a young woman climbs to the top of the famous Hollywood Sign--and jumps to her death. An undocumented day laborer is murdered. And a disbarred and desperate lawyer in Venice Beach places an ad in a local paper that says: "Will Do Anything For Money."

Private investigator Duke Rogers, infamous for solving the case of murdered starlet Teddie Matson, feels he must do "penance" for his inadvertent part in her death. To that end, he takes on the case of Carlos, the murdered day-laborer, as a favor to his sister Marisol, the housekeeper down the street from Duke's house.

Duke must figure out what ties together Carlos' murder, the ex-lawyer's desperate ad and the woman jumping from the sign? And who is the mysterious "coyote"? Amid the controversial political storm surrounding California's Proposition 187, Duke and his very unPC sidekick Jack are on the case. They slingshot from the Hollywood Sign to Venice Beach. From East Hollywood to the "suicide bridge" in Pasadena, and from Smuggler's Gulch near the Mexican border back to L.A. again. Their mission catapults them through a labyrinth of murder, intrigue and corruption of church and state that hovers around the immigration debate in this searing sequel to the explosive Shamus Award-winning novel White Heat.

Praise for BROKEN WINDOWS:

"Fans of downbeat PI fiction will be satisfied...with Shamus Award winner Marks's solid sequel to 2012's White Heat." --Publishers Weekly

"Paul D. Marks' Broken Windows is extraordinary. While the plot is both fascinating and timely, the real beauty of Broken Windows lies in his gorgeous authorial voice." --Betty Webb, Mystery Scene

"Marks expertly drops readers (returning and new) into Duke's world--1994 Los Angeles--from the start, and the prologue is a doozy. In it, a young woman climbs to the top of the Hollywood sign and jumps off. The scene isn't exploitative, but it is realistic and heart-wrenching in its realism. Although it's set in 1994, it's eerie how timely this story is. There's an undeniable feeling of unease that threads through the narrative, which virtually oozes with the grit, glitz, and attitude of L.A. in the '90s. I'm an ecstatic new fan of Duke's." --Kristin Centorcelli, Criminal Element

"This electrifying novel will jolt your sensibilities, stir your conscience and give every reader plenty of ammunition for the next mixed group where the I-word is spoken " --John Dwaine McKenna, The Mysterious Book Report

" T]his entertaining tale, has the sly humour of a modern-day Philip Marlowe and a similar penchant for attracting trouble. Marks writes with an easy style that carries you through the story and creates engaging characters to spike your interest." --Vicki Weisfeld, Crime Fiction Lover

"What I really enjoyed in addition to a joined-up, coherent and satisfying case, was the backdrop of the city, depicted both physically in Marks' referencing of cultural hot spots and emotionally in the depiction of the attitudes and mood of the time. You can sense Paul D. Marks is an Angeleno." --Col's Criminal Library
Down & Out Books, 9781948235075, 358pp.
Publication Date: September 10, 2018