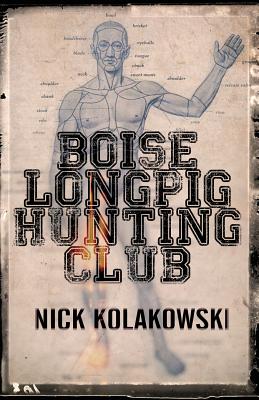 Boise Longpig Hunting Club
Paperback

* Individual store prices may vary.
Description
When you want someone found, you call bounty hunter Jake Halligan. He's smart, tough, and best of all, careful on the job. But none of those skills seem to help him when a shadowy group starts taking his life apart piece by piece.

First Jake comes home to find a dead body in his gun safe. He thinks it's a warning--and when you drag people back to jail for a living, the list of people who want to send that kind of message is very long indeed. With backup from his sister Frankie, an arms dealer and dapper criminal, Jake plunges into the Idaho underworld, confronting everyone from brutal Aryan assassins to cops who want his whole family in jail.

But as Jake soon discovers, those threats are small-time compared to the group that's really after him. And nothing--not bounty hunting, not even all his years in Iraq--can prepare him for what's coming next. Jake's about to become a player in the most dangerous game ever invented...

Boise Longpig Hunting Club is a wild ride into the dark heart of the American dream, where even the most brutal desires can be fulfilled for a price, and nobody is safe from the rich and powerful.

Praise for BOISE LONGPIG HUNTING CLUB:

"Nick Kolakowski spins a ripping pulp yarn of smart-ass bounty hunters and bad-ass crime queenpins caught in the Jean-Claude Van God-Damnedest take on The Most Dangerous Game since Hard Target, but with no bad accents." --Thomas Pluck, author of Bad Boy Boogie and Blade of Dishonor

"Bounty hunters, a Monkey Man and Zombie Bill, explosions, sharp violence and even laughs. Kolakowski brings the goods with this one " --Dave White, Shamus Award-nominated author of the Jackson Donne series

"A bounty hunter, his underworld criminal sister, and a dead body stuffed in a gun safe. What could possibly go wrong? In Boise Longpig Hunting Club, Nick Kolakowski unleashes a sordid and delightfully twisted tale of double crosses, revenge, and good ol' redneck justice. Like the bastard child of Joe Lansdale and James Lee Burke, this one is well worth the sleepless night you'll spend captivated." --Joe Clifford, author of the Jay Porter thriller series and The One That Got Away
Down & Out Books, 9781948235136, 208pp.
Publication Date: August 13, 2018