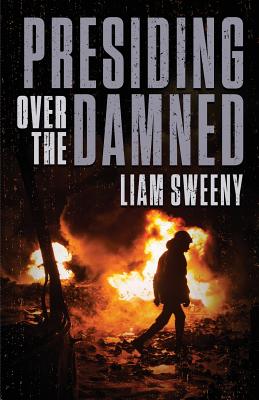 Presiding Over the Damned
Paperback

* Individual store prices may vary.
Description
An arson in New Rhodes reveals the body of Julia Mae Jefferson, an eight-year-old African American girl in the city's North Central District. Jack LeClere, the top homicide detective in the New Rhodes Police Department, is paired with a new partner for the case, Clyde Burris, a former New York City homicide-turned-New Rhodes PD Internal Affairs detective. Jack and Burris have a mutual distrust of each other, but that's the least of their worries. In the heat of the ashes of that row-house, the search for a brutal killer awaits.

New Rhodes is a city on the edge. An influx of new police recruits aren't adjusting to the community they serve. A fight during a protest at a defunded community center begins a back-and-forth struggle between the New Rhodes Police and the North Central community that threatens the relationships that Jack and Burris need to find leads in Julia Mae's case, including the already fractured relationship with the community's lead activist, Marcus Ellison. A well-intentioned move by Jack to help with her funeral backfires as Ellison discovers the true nature of her murder that same day.

Julia Mae's world was one of neglect--of a child, and in fact, many of the North Central children--falling through the cracks. Jack and Burris follow her through those cracks and discover an underbelly of abuse and an industry of exploitation in the guise of a daycare center called Mount Vision. Jack and Burris, through their own struggle to build trust in a city where little can be found, find something that even the most cynical activists could never have imagined--a true wolf in sheep's clothing, and a monster with an SS tattoo and a rebel flag in his window.

To give Julia Mae justice, Jack, Burris and Marcus Ellison must make a temporary peace, and the city must come face-to-face with the fruits of its indifference.

Praise for PRESIDING OVER THE DAMNED:

"Presiding Over the Damned is a journey into the heart of darkness. Lucky for us Detective Jack LeClere is our fearless guide through the shadows." --S. A. Cosby, author of My Darkest Prayer

"Holy Moley I was just going to read the first chapter of Liam Sweeny's new novel, Presiding Over the Damned, and seven hours later, I finished it. What a page turner On a scale from one to ten stars, I give this novel ten stars and highly recommend it to everyone." --Michael G. Edwards, author of the Mike J. Rock, NYPD Homicide series

"Jack LeClere returns, hits the ground running, and races the reader through a deliciously twisted plot peppered with whip-crack dialogue amid breakneck pacing. If you have to pick one detective novel for 2018, make it Liam Sweeny's Presiding Over the Damned. Sweeny continues to deliver and should be on everyone's Must Read list." --Eryk Pruitt, Anthony-nominated author of What We Reckon

"Jack LeClere is a cop you want on your side. Liam Sweeny is a writer you want on your bookshelf. Presiding Over the Damned, more than a great addition to the LeClere series: a book that will not only gut you, but one you can't help but cheer on." --Beau Johnson, author of The Big Machine Eats

"Presiding Over the Damned is more than just a flash-bang police procedural; it's also unafraid to plunge into some of the roughest, toughest issues of our time. If you're a fan of Michael Connelly or George Pelecanos, you're going to dig the heck out of this." --Nick Kolakowski, author of Boise Longpig Hunting Club
Down & Out Books, 9781948235150, 284pp.
Publication Date: August 20, 2018