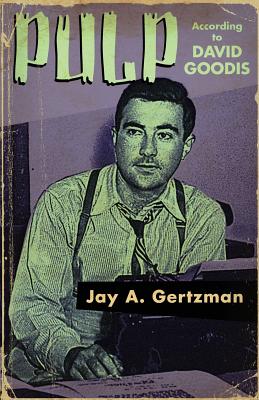 Pulp According to David Goodis
Paperback

* Individual store prices may vary.
Description
Pulp, According to David Goodis starts with six characteristics of 1950s pulp noir that please editors because they obviously fascinate mass-market readers. Extremely valuable is an urban setting, which Goodis provided chiefly in his home town, Philadelphia. There, as factories moved to the suburbs, employers, police, and politicians abandoned postwar working-class and underclass neighborhoods. Declared "blighted," they endured the racketeering of the local mob boss. Only Goodis saw, in this Street of the Lost and in Down There and Night Squad, a still-vibrant community solidarity. He dramatizes all this in the language of the streets, the way a great film director would, and in fact Delmar Davies, Paul Wendkos, and Jacques Tourneur did produce films of his novels.
As a Hollywood script writer, his most prestigious assignment was for an unproduced film on working class vets. It eventually became a prose poem in pulp paperback format, The Blonde on the Street Corner, set in the Depression-era Philadelphia of row houses and corner hang-outs. We become intimate with the manic-depressive protagonist, his drifting friends, his street corner, and the enigmatic wintry moonlight of a park in north Philadelphia.
The writer departs radically from pulp crime conventions with themes of brother-sister incest (Of Tender Sin, The Moon in the Gutter). This gives him a chance to reveal the desperation of people who do not dare to examine their psychosexual desires and the nuclear family dynamics that nurtured them. Instead, they attach themselves to sexually aggressive women who add to their humiliation and guilt. They damn themselves to substituting pain for mutuality, as if the only feeling that arouses them is guilt.
In many novels, Goodis' sympathy extends beyond the common man to the murderous crime boss, whose brutal success has deprived him of connection with a lover or a community. The successful gangster is "alone and guilty and defenseless amongst enemies; one is punished for success" (Robert Warshow). Night Squad and Black Friday are exemplary. It is yet another example of how a crime writer can teach his mass readership how to think beyond the expectations for the pulp thriller. It also helps explain why "Goodis did not choose the pulp crime genre, it chose him."
Pulp According delineates the noir profundity of Goodis' work in the context of Franz Kafka's narratives. Goodis' precise sense of place, and painful insights about the indomitability of fate, parallel them. The Burglar, Down There, and Street of No Return are especially close. Both writers mix realism, the disorienting, and the dreamlike; both focus on horrific vistas of entrapment; both describe the protagonist's apparent degeneration to a sub-human condition.
Goodis wrote his final novel, Somebody's Done For, after the death of his parents, alone and bereft in the family home. This underappreciated story recapitulates his major noir preoccupations: the noble, doomed loser and the inaccessible nature of intimacy and mutuality.
The writer never told anyone he was more than an "entertainer." But so were Faulkner, Steinbeck, and Hemingway, all of whom are echoed by David Goodis. If there is one writer of mass market pulp literature who exemplifies the intensity of post-World War II experience among readers of noir crime pulp, it is this "poet of the losers." The emphasis is on "poet."
Down & Out Books, 9781948235365, 266pp.
Publication Date: October 29, 2018