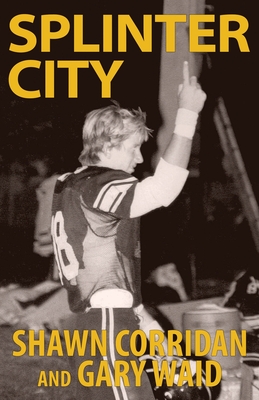 Splinter City
Paperback

* Individual store prices may vary.
Description
After nearly two decades in prison, high school gridiron great Dan Parrish returns to his hometown in rural Kansas with nothing more than a duffel bag and a desire to quietly get on with his life.

But picking up the pieces in a place where he was once revered isn't as easy as he hoped, especially for a convicted felon in the Bible Belt. And in no time Dan has landed squarely in the crosshairs of an old, high school nemesis, the unctuous Judge Rick Hunter who warns Dan to "leave Echo now or be sent back where you came from."

When Dan is offered a dream job--a coaching staff position with the Echo Junior College football team--he must decide between accepting the offer and risking his newfound freedom; or leaving Echo, tail between his legs, and breaking the promise he made to his dying father.

Meanwhile, Dan is falling fast for his college professor, a beautiful but enigmatic outsider who challenges him to stay in Echo. And in an odd twist of fate, Parrish's final decision results in an outcome that splashes his name and face across every county news outlet in Kansas, forcing the former star to face off against his two most formidable adversaries: his age and his checkered past.

Praise for SPLINTER CITY:

"Splinter City is an action-packed homecoming tale with a satisfying twist. Dan Parrish, ex-con, ex-football star, is a fascinating, complex character who braves the prejudice of a small town that may not be ready to forgive his alleged sins." --Deborah Shlian, winner of Florida Book Award for Rabbit in the Moon and Royal Palm Literary Award for Silent Survivor

"Thomas Wolfe said, 'You can't go home again, ' but haven't we all gone back, or wanted to? If you haven't, you can go back vicariously by reading Splinter City, a fine new novel by established authors Shawn Corridan and Gary Waid. Travel with Dan Parrish as he deals with homecoming, heartbreak, and small-town football." --David Bishop, author of The Third Coincidence

"When a former local football hero returns home to a small Kansas town after eighteen years in prison he discovers even the secrets have secrets, and the forces that tried to ruin his life are still there, now more powerful, ready to finish the job. Don't read it on a work night. Highly recommend." --Mike Pace, author of One to Go

"Corridan and Waid spin a masterful tale of redemption with surprises at every turn. A great read." --Robert B. McCaw, author of the Koa Kane Hawaii mysteries
Down & Out Books, 9781948235396, 310pp.
Publication Date: November 12, 2018