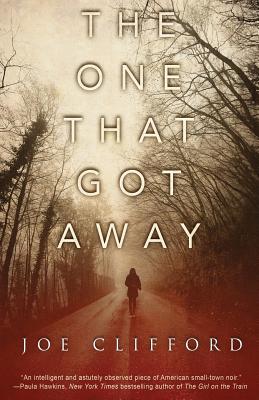 The One That Got Away
Paperback

* Individual store prices may vary.
Description
In the early 2000s, a string of abductions rocked the small upstate town of Reine, New York. Only one girl survived: Alex Salerno. The killer, Ken Parsons, was sent away. Life returned to normal. No more girls would have to die. Until another one did.

It's been seven years since Kira Shanks was reported missing and presumed dead. Alex Salerno has been living in New York City, piecemealing paychecks to earn a livable wage, trying to forget those three days locked underground and her affair with Sean Riley, the married detective who rescued her. When Noah Lee, hometown reporter with a journalistic pedigree, requests an interview, Alex returns to Reine and Riley, reopening old wounds. What begins as a Q&A for a newspaper article soon turns into an opportunity for money, closure and--justice. The disappearance of Kira Shanks has long been hung on Benny Brudzienski, a hulking man-child who is currently a brain-addled guest at the Galloway State Mental Hospital. But after Alex reconnects with ex-classmates and frenemies, doubts are cast on that guilt. Alex is drawn into a dangerous game of show and tell in an insular town where everyone has a secret to hide. And as more details emerge about the night Kira Shanks went missing, Alex discovers there are some willing to kill to protect the horrific truth.

In the modern vein of Dark Places and Mystic River, The One That Got Away is a dark, psychological thriller featuring a compelling, conflicted heroine and a page-turning narrative that races toward its final, shocking conclusion.

Praise for THE ONE THAT GOT AWAY:

"A great book I devoured it. Taut, pacey and with a powerful sense of place, Joe Clifford's The One Got Away is an intelligent and astutely observed piece of American small town noir." --Paula Hawkins, New York Times bestselling author of The Girl on the Train and Into the Water

"Joe Clifford is a gifted storyteller with a knack for crafting characters who are entirely human. The One That Got Away is dark and unforgiving, a chilling crime novel with the perfect touch of tenderness that will keep readers turning the pages with haste. This is one book you won't be able to put down. --Mary Kubica, New York Times bestselling author of The Good Girl and Every Last Lie

"The mystery of The One That Got Away sucked me in, but it was the emotional punch of Alex Salerno's return home that broke my heart. With its sharply observed characters and setting and crime-thriller pace, its tough exterior belies a vast, unexpected tenderness. I cannot not quit thinking about this book." --Emily Carpenter, author of Burying the Honeysuckle Girls and The Weight of Lies

"It's not often that I read a top-notch thriller with layers of emotion buried within each page. On the surface, Joe Clifford's story of a young woman who survived a kidnapping and returns to her hometown to investigate a seemingly similar disappearance is compulsively readable, but when you dig a little deeper, you discover there's so much more to unpack. The On That Got Away is by far Clifford's best and most fully realized novel to date, and might well be the most rewarding thriller I've read this year." --Jennifer Hillier, author of Jar of Hearts
Down & Out Books, 9781948235426, 278pp.
Publication Date: December 3, 2018