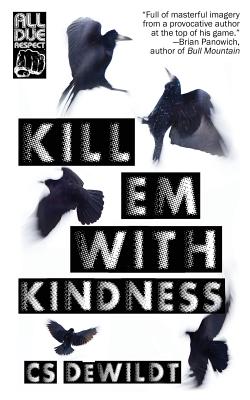 Kill 'Em With Kindness
Paperback

* Individual store prices may vary.
Description
Nick Gillis grows marijuana and minds his own business, a policy that pays off in the small Midwest town he calls home. But when he breaks his own rule by helping out a girl at a bar, it's enough to put him on the radar of the most dangerous man he knows.

It's truly a case of no good deed going unpunished as Nick's debt leads him down a dark path littered with psychologically damaged convicts, a crooked chief of police, and one well-trained murder of crows.

Praise for the books of CS DeWildt:

"...full of masterful imagery from a provocative author at the top of his game, piled high on a bullet train of violence that demands that once you start watching, you don't look away." --Brian Panowich, author of Bull Mountain

"DeWildt stands alone as a wicked wizard of crime fiction. Love You to a Pulp serves up heart and depravity in equal portions. Bold, brash, and completely original." --Tom Pitts, author of Hustle

"Chris DeWildt is the first honest-to-God heir apparent I've read to the rural noir master Jim Thompson." --Joe Clifford, author of Lamentation and December Boys
All Due Respect, 9781948235501, 192pp.
Publication Date: May 25, 2018