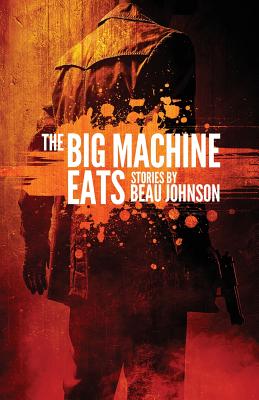 The Big Machine Eats
Paperback

* Individual store prices may vary.
Description
Life has never been easy. Life has never been kind. It is always hungry. It is never full. Enter the struggles within the pages of The Big Machine Eats. Where fathers clash with sons, cannibals turn on cannibals, and sometimes sandwich meat is far from the worst choice a person can make.

These stories, along with the continuing adventures of Bishop Rider, make up the bulk of this collection. They are not for the faint of heart. They are not for those who fail to believe one should get what one deserves. We must help ourselves. We must help those who find themselves unable. If not, it's as the sign says: The Big Machine Will Eat.

Praise for THE BIG MACHINE EATS:

"Beau Johnson has put together a collection of stories so compelling that you will want to set aside a few hours each time you come to it. One just isn't enough, and the next thing you know you'll be grumpy at work because you stayed up way past your bedtime." --Paul Heatley, author of Fatboy

"Beau Johnson takes you to dark places and shines a light on the ugly things that happen there. His perfectly created, bigger-than-life Bishop Rider is a modern-day anti-hero and Johnson writes the surrounding stories with savage suspense. The Big Machine Eats is the perfect follow-up to his debut A Better Kind of Hate." --Marietta Miles, author of Route 12 and May

"These deliciously dark stories will stay with you long after you've read them. Johnson is a natural storyteller--insightful, empathic, and, above all, brutally honest. He takes readers places they really don't want to go, drawing them into a grubby underworld of bad guys doing very bad things to very bad people. Retribution is a common theme, and Johnson never shirks from the grisly details as his characters come up with even more inventive ways to settle old scores. Revenge, here, isn't just served cold--it's delivered on ice, and then some. The Big Machine Eats is a gripping collection from a writer at the top of his game." --Gary Duncan, author of You're Not Supposed To Cry

"An extremely entertaining and clever collection of stories from one of the biggest names in the game. He invites readers along for a wild ride through the seediest neighborhoods of his twisted mind in this fantastic follow up to A Better Kind of Hate. Let him help you see the demons that walk among us and shine some light through the darkness. Clearly the best collection you will read this year." --Kevin Berg, author of Daddy Monster and Indifference

"Beau Johnson has a way of luring you in with his sharp wit, discerning eye, and conversational voice. You'd follow him anywhere, even after you careen off a cliff and plunge into the darkest depths of the human psyche--and sometimes not so human. A helluva brutal collection from a ferociously twisted mind." --Sarah M. Chen, author of Cleaning Up Finn

"Beau is back, once again proving he is the alchemist of conflict as he continues to peel back the fingernails of human frailty and forces us to stare into the darkness found there." --Tom Pitts, author of American Static and 101

"Beau Johnson excels at the base, those twisted places we don't want to go. Whether that is sexually motivated, or fueled by revenge or something more sinister (if not all three at once), Johnson puts his subjects beneath the microscope. What we get is, yes, the truth, but more than that: we get an extreme close-up of the horrifically beautiful." --Joe Clifford, author of The Jay Porter thriller series and the The One That Got Away
Down & Out Books, 9781948235549, 234pp.
Publication Date: November 26, 2018