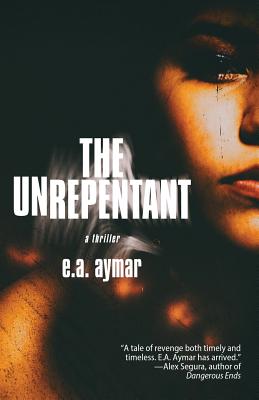 The Unrepentant
Paperback

* Individual store prices may vary.
Description
They never expected her to fight back...

Eighteen-year old Charlotte Reyes ran away from an abusive home only to end up tricked, kidnapped, and taken across the country by criminals. Charlotte manages to escape with the help of a reluctant former soldier named Mace Peterson, but she can't seem to shake the gang or the crooked cop paid to bring her back--alive or otherwise. With nowhere to run and nowhere to hide, Charlotte realizes she only has one option. She has to fight.

Set in the Virginia, Maryland, D.C. triangle, The Unrepentant combines page-gripping action and black comedy, and provides a no-holds-barred, necessary examination of the dark corners of the human mind.

Praise for THE UNREPENTANT:

"A gut-wrenching crime thriller. Readers who appreciate depth of character alongside gritty nonstop action will be rewarded." --Publishers Weekly

"Savage, nuanced, and infused with Aymar's signature dry wit, The Unrepentant is an enjoyable hard-boiled tale that pulls no punches." --Jennifer Hillier, author of Creep and Wonderland

"Gritty and fleet, The Unrepentant takes an unflinching look at things that aren't to be forgiven. Aymar's storytelling is timely, thoughtful, and well-informed and will stay with you long after The End." --Jamie Mason, author of Three Graves Full and Monday's Lie

"Brutal, dark and disturbing, Ed Aymar's The Unrepentant packs a punch not easy to forget." --Zo Sharp, author of the Charlie Fox crime thriller series

"The Unrepentant is a powerful, darkly evocative story that features an unforgettable protagonist in the wily Charlotte Reyes. These elements combine to make for a thrilling revenge tale peppered with sharp humor and feeling both timely and timeless. E.A. Aymar has arrived." --Alex Segura, author of Blackout and Dangerous Ends

"Aymar tackles a horrific problem with unflinching courage and wit. The Unrepentant rewards readers with crisp prose, relentless thrills, and characters you'd want on your team in what is, at its core, a modern-day brawl between good and evil. I couldn't put it down." --Wendy Tyson, author of Rooted in Deceit

"The Unrepentant is a gripping and unnerving tale about the sex trade, American justice, and what it means to be a hero. E.A. Aymar takes on a taboo subject with honesty and courage." --Allison Leotta, author of The Last Good Girl

"A tale of unflinching brutality, told with dark humour and bursting with empathy for both victim and hapless criminal alike, The Unrepentant is an action-packed, fast-moving thrill ride sure to leave readers breathless." --Owen Laukkanen, bestselling author of The Professionals
Down & Out Books, 9781948235587, 330pp.
Publication Date: March 4, 2019