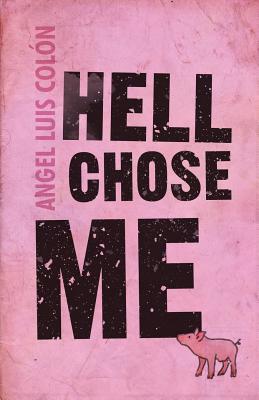 Hell Chose Me
Paperback

* Individual store prices may vary.
Description
Bryan Walsh is a killer for hire. He is haunted by those who have fallen by his hand. He will stop at nothing to avenge his brother's death. When a lifetime of bad karma finally lands on Bryan's doorstep and leaves his brother dead, he must survive long enough to find the killers and get his revenge, but as the path only grows bloodier, Bryan may not be able to handle the steps he'll need to take against his enemies. As he becomes more unstable and his past crashes into his present, Bryan must decide if vengeance is worth becoming the monster he always denied or if he could find a another path; one that could lead to something like redemption. Praise for HELL CHOSE ME: "Angel Luis Col n's knack for writing colorful, compromised hooligans for whom you can't help but root has garnered him a loyal following, and his debut novel, Hell Chose Me, more than delivers on the promise of his short fiction. Equal parts profound and profane, Hell Chose Me is a damned good read-a vividly imagined pulp nightmare best read through splayed fingers." -Chris Holm, Anthony Award-winning author of The Killing Kind "Fueled by revenge and unapologetically bloody, Hell Chose Me contains all the violent, morally conflicted elements you hope to see in a classic hitman tale. However, this is not your parents' noir. Angel Luis Col n levels up in his first full-length novel with superb writing and a voice that seizes you from page one. A dark, dirty, gritty delight." -Jennifer Hillier, author of Jar of Hearts "Buckle up, Buttercup. Angel Luis Col n delivers a gut punch that stays with you." -Shaun Harris, author of The Hemingway Thief "Col n's voice pulled me along like a tidal wave." -Sara J. Henry, author of A Cold and Lonely Place and Learning to Swim
Down & Out Books, 9781948235600, 240pp.
Publication Date: February 4, 2019