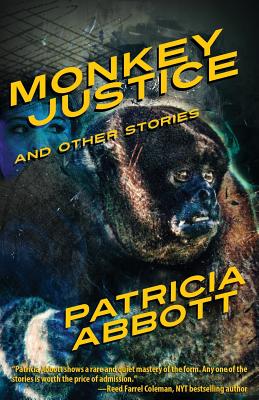 Monkey Justice
Paperback

* Individual store prices may vary.
Description
In print for the first time, Monkey Justice collects the first stories of Anthony, Edgar and Macavity-nominated author Patricia Abbott.

These stories explore the dark side of human behavior and are more about victims than perpetrators of crime: a father oversteps his proscribed duties, a young woman awakens something dormant in an older man, a young man saves his family but loses himself, a boy is a stranger in his newly configured house, a man misunderstands the marital situation he is drawn into, a squatter pleads for our pity but in the end betrays it, two old men compete for attention in a nursing home.

The characters in Monkey Justice inhabit the harsh landscape of modern America. You can find them on any city block, on any deserted country road.

Praise for the works of Patricia Abbott:

"Patricia Abbott shows a rare and quiet mastery of the form. Any one of the stories is worth the price of admission." --Reed Farrel Coleman

"The stories in I Bring Sorrow are electric and utterly amazing." --Ken Bruen

"With cool compelling prose, Concrete Angel reveals the menace that lurks beneath a mother's charming facade." --Meg Gardiner

"Patricia Abbott proves that there are many shades of noir as she expertly layers her stories with melancholy, loss and the frailness of the human psyche." --Dave Zeltserman

"Patti Abbott is a master when it comes to short stories." --Anne Frasier

"Abbott has a slyly wicked streak, and she uses overarching feminist themes to tell her dark, sometimes devious, and always sharp and socially conscious tales." --Criminal Element

"Abbott's ability to create living, breathing characters is nothing short of amazing." --Mystery Scene

"Abbott's craftsmanship is on full display...with an underlying sense of tragic destiny in each of these selections. The pieces can alternatively leave one with a sense of despair or a tentative hope for better days." --Library Journal, starred review

"Patti Abbott is one of the premier practitioners of the American crime story. The staggering level of care she invests in her craft is always evident from the first sentence to the last. She writes smart, dark tales with frighteningly real characters and vivid settings." --Chris Rhatigan
Down & Out Books, 9781948235655, 272pp.
Publication Date: March 18, 2019